Post 18 Choices
What are my choices?
For 18/19 year olds the route to university or a higher / degree apprenticeship requires Level 3 qualifications such as A levels, BTEC, Cambridge Technicals, T Levels. The resulting grades from your courses will open up opportunities for you and therefore it is vital that you remain on target to achieve your predicted grades. To move into higher apprenticeships, you will need to meet the entry requirements, for a degree apprenticeship or university your grades will be used either as A*, A, B, C etc., or will translate into UCAS points. Take a look further down for how UCAS Tariff Points are calculated.
But how do you choose what to do when there is so much choice? Shall I go to university or do an apprenticeship? First consider your career path.
https://www.prospects.ac.uk/job-profiles/browse-sector
Here is some information to help you:
Apprenticeships
Apprenticeships Post 16 or following GCSE / Level 2 qualifications offers students an opportunity to learn on the job, building up knowledge and skills, as well as earning money at the same time. You will work towards a standard or a framework - these will detail what you will be learning and how it will be assessed.
Higher Apprenticeships Post 18 are at Level 4 or above and when completed are equivalent to a HNC, a Foundation Degree or the first year of a degree.
Degree Apprenticeship Post 18 allows students to gain a degree or even a Master's degree while being employed and trained at the same time. UCAS has lots of information on apprenticeships including links to finding vacancies. You can access the following guides and information
: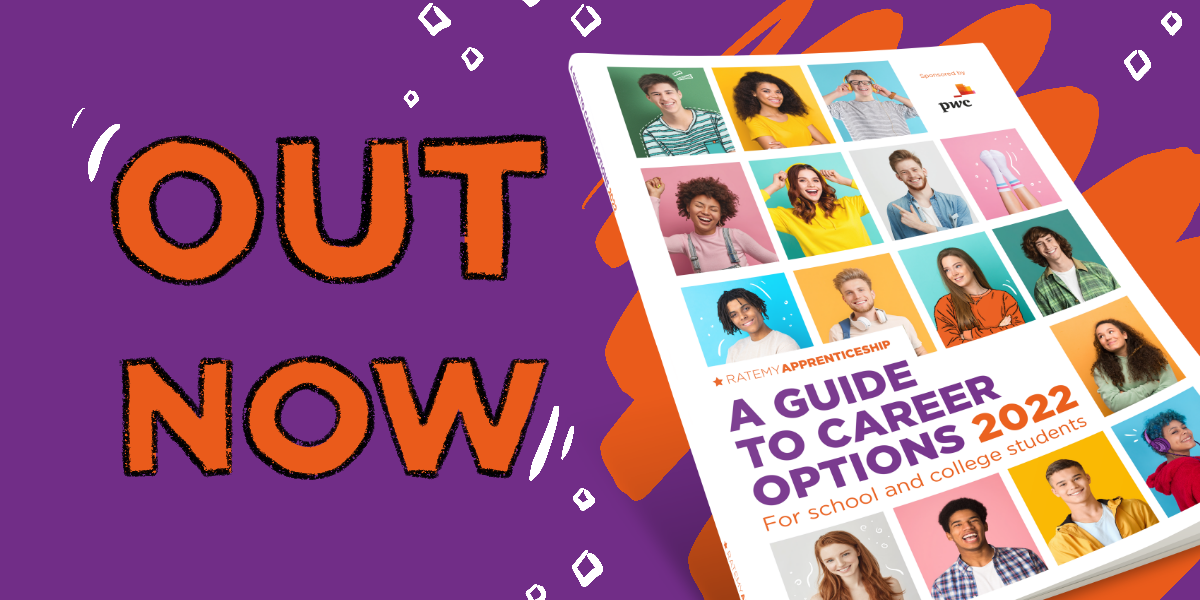 Amazing Apprenticeships Student Guide 2020
Amazing Apprenticeships guide
Which Higher Degree Apprenticeships
Today apprenticeships are available in almost every industry sector and provide exciting, high quality opportunities in all kinds of careers.
These are highly competitive so it is a good idea to get your university application in at the same time as you are looking for an apprenticeship, so you have a Plan A and B! Register with as many sites as possible and follow companies of interest on LinkedIn and Twitter. Many organisations have a 'Register Your Interest' area on their website, this will allow you to be notified immediately the apprenticeships go live. Do make sure that you take advantage of the opportunities on offer at LDE UTC within projects and virtual experiences, to give you a story to tell.
You will be employed by the company and receive a salary, paid holidays, pension and sickness benefit. With Higher and Degree apprenticeships you work and study part-time, alongside your job.
What should I do now?
You have to apply for an apprenticeship but first you need to find a vacancy. Follow the links below for further information and to set your search criteria to receive notifications as apprenticeships go live. If there are particular companies you are looking at then go to their careers area online and register your interest.
Read your LDE UTC emails – vacancies are sent to you as soon as our Careers Leader receives notifications, and keep an eye on the Opportunities Padlet too!
Browse live apprenticeships and find further information gov.uk
Further sites to explore and register with:
Get my first job - Apprenticeships Degree Apprenticeships, Work Experience & Graduate Jobs
Rate My Apprenticeship Not Going To Uni
Target Careers All About School Leavers
Success at School Career Finder with UCAS
National Careers Service Find Apprenticeships
QA Apprenticeships - Specialising in apprenticeships within Digital and Business
Multiverse apprenticeships - Apply to Multiverse directly for access to a range of apprenticeships
Learner and parent registration to Careermag
Applying for an apprenticeship or work
Once you have found an apprenticeship that you wish to apply for, please take a look at the guides below, more are to be added, and discuss with Janice our Careers Leader, your form tutor or Head of Year. You will have workshops to support you but in the meantime gather as much support as you can, take part in projects and virtual experiences, read, research and remember, you must apply for a number of opportunities as they will be highly competitive.
How to start a job application
Give yourself the best chance of success, take a look at this information developed by UCAS for apprenticeship guidance and support
How to Prepare for an Interview | Interview Questions | UCAS
Take a look at PWC's Employability Hub
PwC's Employability Hub is a place where you'll find useful virtual tools to support you to develop key employability skills. Explore their different resources on 'Online applications and assessments' 'video interviews' and more besides. These pockets of information will support you in making strong applications and the steps that follow.
Before you take an aptitude or similar test, have a practice first using the following link to make sure you are feeling sharp.
https://www.practiceaptitudetests.com/
University
You may already have decided on your future career, which can make choosing a higher education level course easier. Make sure you check the qualifications needed for your chosen job as some occupations such as Law and Medicine demand that you have a degree in a specific subject to be able to build a career in that field.
Many employers are often looking for people who have a degree level qualification and are less concerned about the specific subject which means that potentially any degree subject can lead to a professional and/or managerial opportunity. However, it's a good idea to check that your subject choice will not close down routes into job sectors, Career Pilot you might be interested in. Do this by looking at the 'Job profiles' within each job sector using the Prospects link at the top of the page.
You can access our presentation, which is delivered to all sixth form learners here: Post 18 Options
How do I apply to university?
LDE UTC will set up an account with a Buzzword for you to begin creating your UCAS account. The sooner you begin completing the admin details the better, we will support you with that if you need our help. You will need your GCSE grades and predicted level 3 / A level grades too.
Begin the search and consider:
What do I want to study?
Where do I want to live?
Do I want to attend a campus university with accommodation on site or maybe one where I live off campus in the first year?
Uni Taster Days Subject Guide Videos - An impartial guide to university courses featuring expert speakers. These impartial subject videos introduce studying a range of different subjects at university - so you can make informed university subject choices in the future. Covering reasons to consider each subject, what to expect when studying it, a guide to future career opportunities and even application tips. From Accounting to Veterinary Medicine - and 100's of subjects in between.
Research Research Research
Look into the course content, consider all of the options.
Criteria for entry onto the course. (Scroll down to UCAS tariff points to learn more)
Does the course have a year in industry?
Are there scholarships or bursaries available in my chosen area?
Where will my degree take me?
Does this give me what I am looking for?
UCAS tariff points
Ask yourself, are your choices realistic both in terms of what you like and your target grades? If you don't know what your target grades are, talk to your tutor or subject teachers at school or college. This is important as universities and colleges offer you a place when they have looked at predicted grades and your personal statement. Sometimes you need certain grades and at other times a certain number of UCAS points. The higher your grades are, the greater the number of UCAS points you will have. UCAS has produced a really helpful calculator to work out your points.
Visit
In person if you are able or virtually if not. Take a note of the surroundings and facilities. What is important to you? Attend open days and make the most of them. Opendays.com has all the dates and advice on what to do to get the best out of them or take a look at the link on UCAS. Make your selection of 5 universities.
Personal Statement.
It is so important that you begin writing your personal statement prior to the summer at the end of year 12. Get your thoughts and ideas together and make an impact. Taking part in opportunities at LDE will support the application and shows that you take this seriously, that you are a viable candidate. Mindmap Planning for your Personal Statement.
You statement will be checked by your tutor and you must meet the deadlines for draft versions. It may take several attempts but the finished document is crucial to you receiving an offer.
How to write your personal statement – UCAS guide and other information.
Subject Specific Personal Statement Guides
Personal Statements How to get experience
How to write a Personal Statement
Completed applications
Once everything is in place and your payment is made, we will add our reference and submit your application to UCAS. You will then keep an eye on UCAS Track, and wait for your orders.
You've applied, now what happens? – Take a look at this UCAS video to find out what happens to your application:
How to prepare for a university interview
University Fees
Students need to apply for a government loan to pay for tuition fees which can be up to £9,250+ a year for some courses. Although this is a lot of money your loan does not have to be paid back until you have finished your course and are earning more than £25,000. (effective for courses 2023/24).
Visit Student Finance Student finance register to find out more about applying and conditions. You can do this once you have selected your Firm and insurance choices.
You might also want to think about the place you are studying and the costs you will have to pay for accommodation, etc. This guide from the NatWest Bank has information on the most affordable cities for students.
Remember, different universities offer different courses and experiences, but you can compare them
What you choose, and the way you study, will depend on what you want and need from a qualification. You will also need to think about where you want to study, at home or away and what type of university you want to go to e.g. city, campus, etc. They are all quite different, so take a look at their website or follow these links:
Universities and Colleges Admissions Service (UCAS) website
Which? University A level explorer Add your A levels and find out what other people went on to do with that combination
Which uni tool that allows you to search for a university course
Oxbridge, Medicine and related degrees
Application deadline October.
Please ensure that you prepare your personal statements early, and that you meet the October deadline for your application, this includes staff at LDE completing their part.
Research early and ensure you have completed any additional requirements such as BMAT for medicine, and have participated in work experience, virtual or in person.
It is academic and your statement will be talking to an academic. They want to know why you can do this course and know that you can you hit the ground running. Evidence what you have done, don't just claim it. Maybe use academic texts and references to show that you know. Do you know what this degree means, the content of the course and what it will provide for you for the future. Look at videos to support your applications and guidance from the universities themselves. If you are preparing to apply, you MUST begin this process early.
Gap Year
A gap year offers you the opportunity to gain skills and experiences, while giving you time to reflect and focus on what you want to do next.
A productive gap year can be valuable on your CV – many employers value the experiences students have gained if they've actively managed their time, set themselves goals, and stretched themselves.
A gap year can also enhance your higher education studies – if you decide to apply for uni, you could tailor your gap year to relate it to the subject area you plan to study.