LDE UTC Rowers Excel at National Junior Indoor Rowing Club
16.03.2020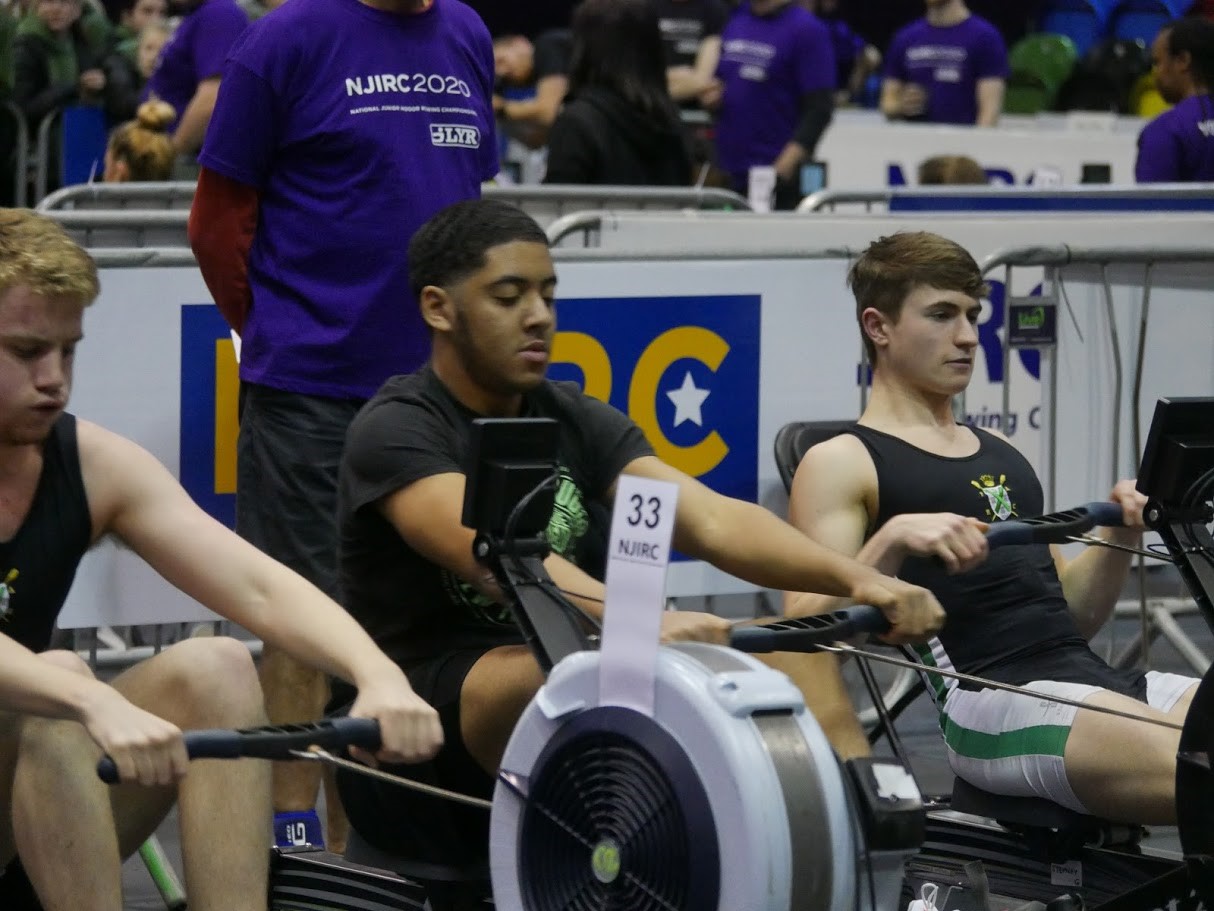 The LDE UTC Rowing Team were joined by almost 2000 young people aged between 11 and 18 to take part in what is seen as the final competition in the Indoor rowing competitive year. The event was organised and run by London Youth Rowing (LYR) together with volunteers from industry sectors, including LDE UTC sponsors Thames Water, Tideway and Costain.
Competitors travelled to row and race from rowing clubs, private and state schools from the North, South, East and West of the United Kingdom together with rowers from 60 London state schools who are part of the Active Row schools programme run by London Youth Rowing (LYR).
The LDE UTC Rowing Team was led by Team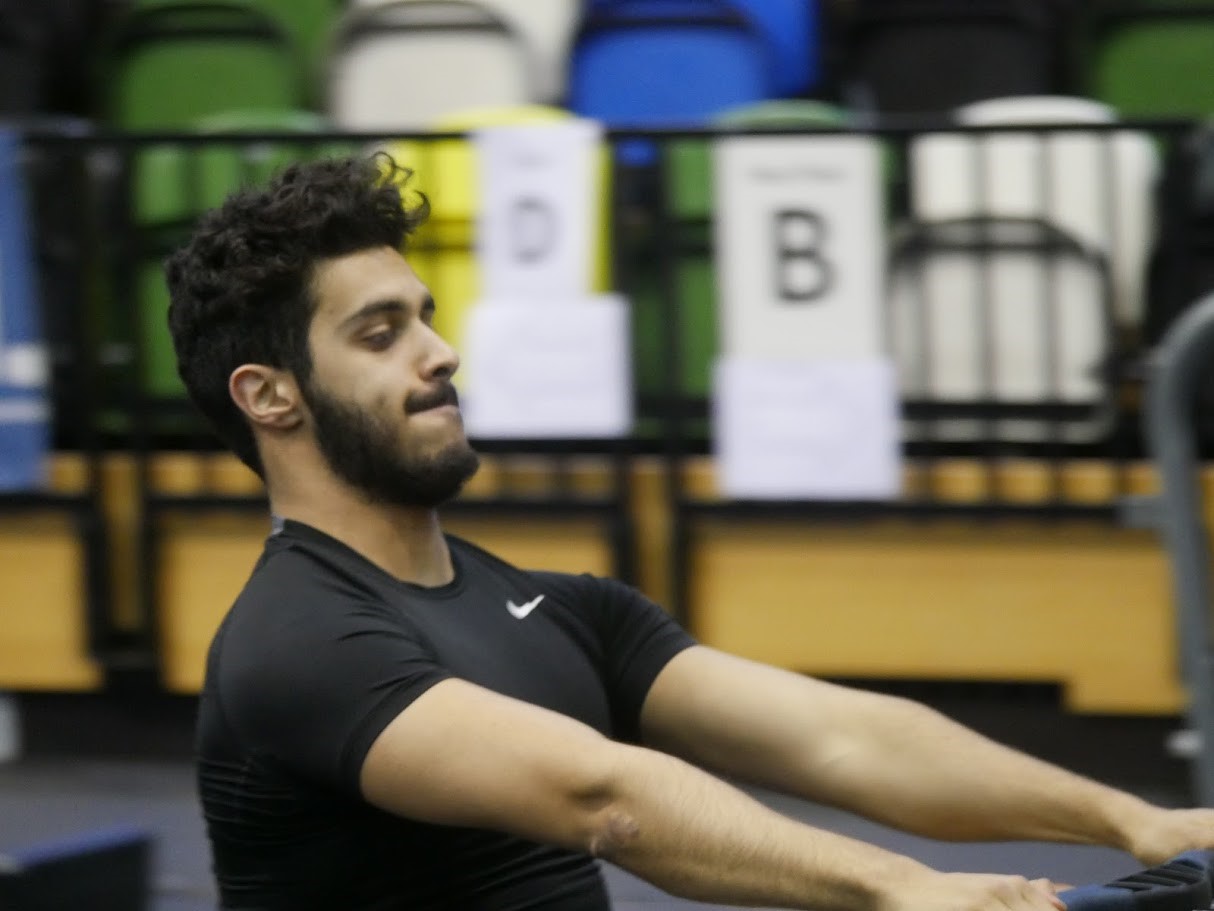 Captain, Tyrone and Vice-Captain, Sohrab and included Alex, Mohammed, Ismail, Anujan, Jamal and Marco with support from Joshua Button and Head of Year 12 and Coach, Jonny Morgan.
Arriving at 8.0am, the LDE UTC Rowing team prepared for their individual races that took place at 10.0am. All of the eight LDE rowers raced over 2000 meters on indoor rowing ergometers against large fields in the respective Year 12 and 13 age categories. LDE UTC Rower Ismail finished an amazing 8th in 7mins 20.9seconds with Team mate Sohrab seconds behind him in 9th in 7mins 24.6 seconds.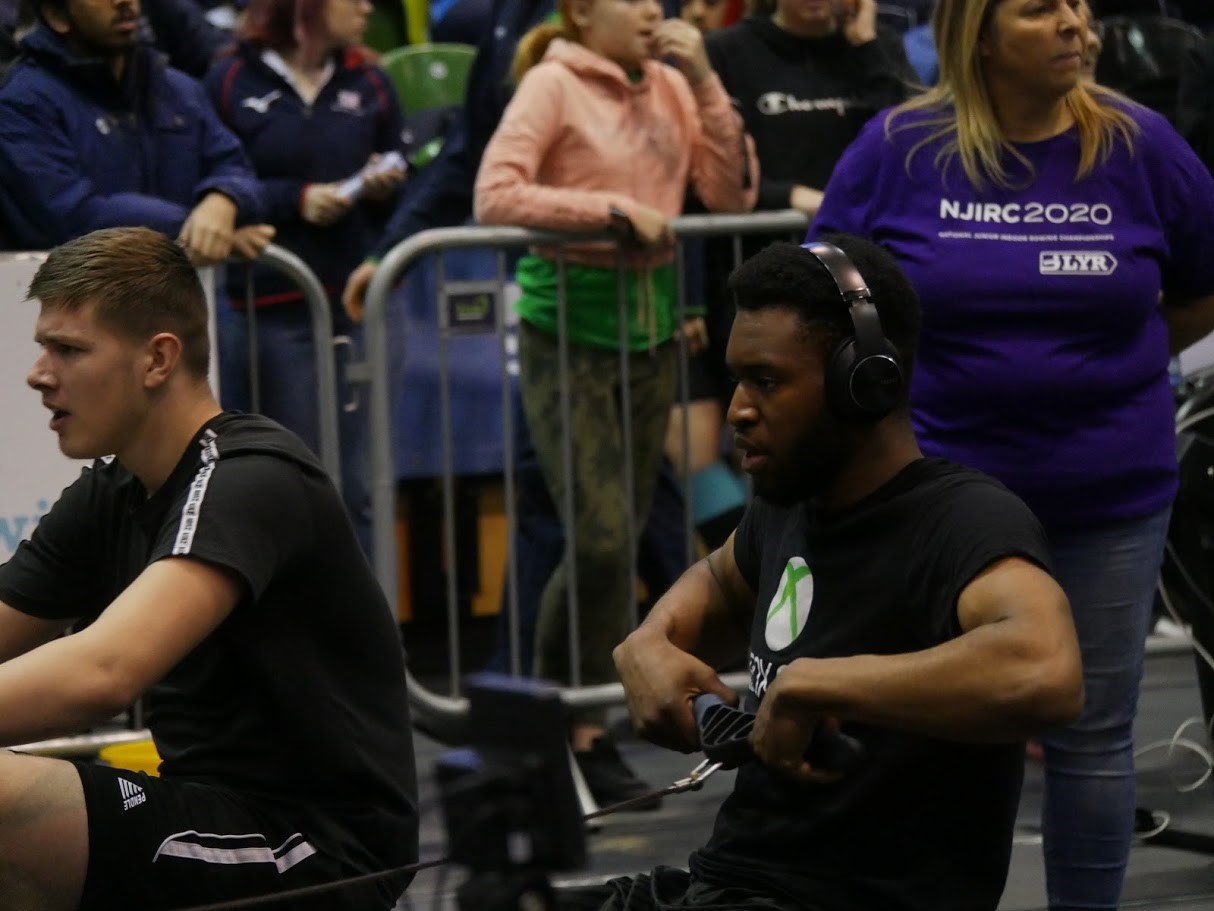 Following on from their individual races and after a few hours of recovery, the LDE UTC Rowers competed as a team in the Boys' relay against some very strong and experienced Rowing teams.
The relay was a timed event with each team trying to row the maximum number of meters in 16 minutes 19 seconds, the current time for the Oxford/Cambridge Boat race.
The outstanding leadership and team management of Tyrone and Sohrab was something to behold with a plan in place, which they kept to throughout the race.The intrepid young men from LDE UTC pushed themselves above and beyond what they and their rivals believed what was possible and recorded a total of 5206 meters, finishing a very close 9th overall, with only 100 meters seperating them from 6th place.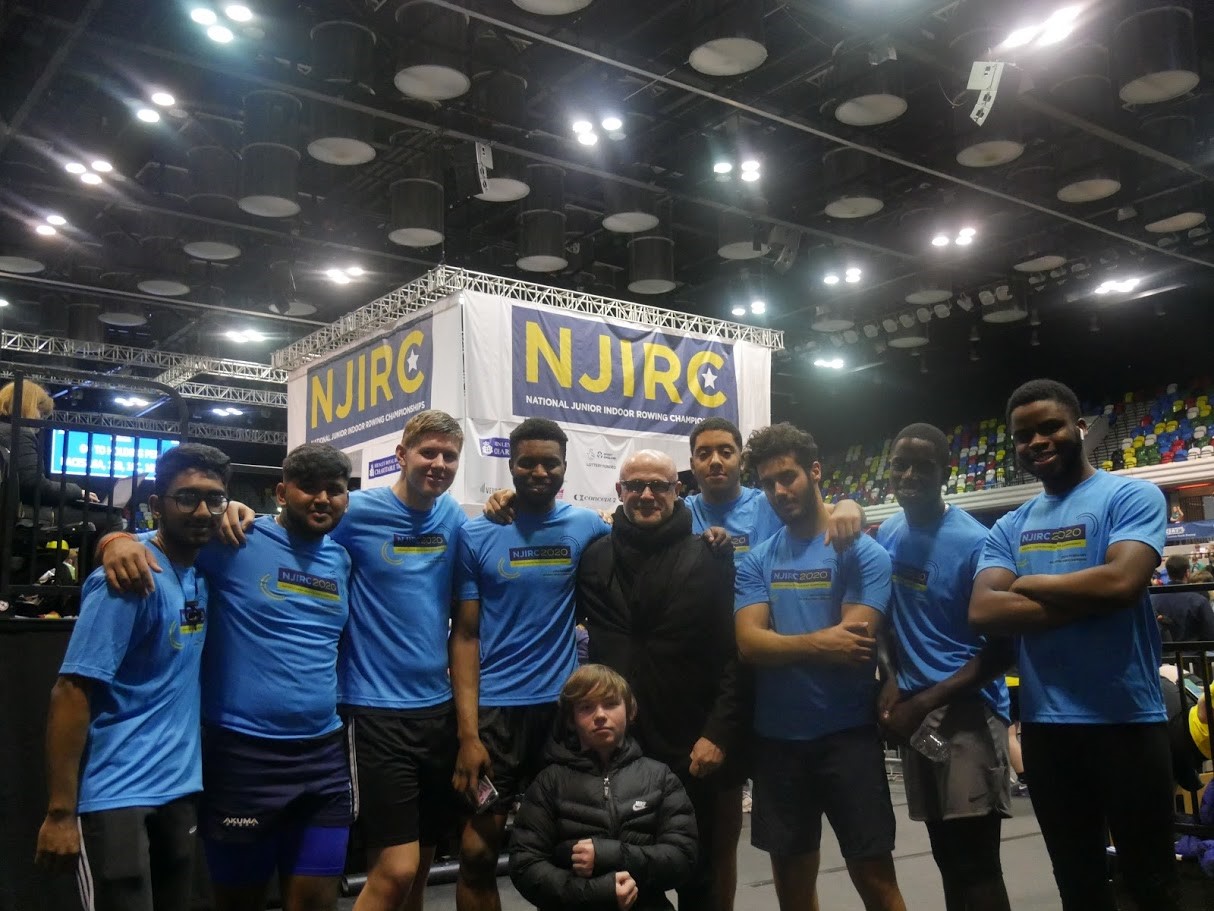 What is even more incredible is that all of the teams that finished above the LDE UTC team were highly experienced rowers from either Rowing clubs or Private schools with years of training. This is truly inspiring when you consider that the boys from LDE UTC only trained for three months and had never raced as team before.
Leading on from this performance the aim is to now get on the water and compete as a 4 and 8 in a Rowing regatta, leading by example, and to further establish the sport of rowing at LDE UTC in the months and years to come.
LDE UTC Deliver Presentation at Amazon HQ and are named in the EdTech50 2020 Yearbook!
10.03.2020
by James Culley, Assistant Principal and Teacher of Digital Media
Recognised: Florin, for Team Leadership and Management of a Real World Digital Project.
Year 13 learner Florin, following a fantastic display of team management skills, took part in a real world project with app developer, Peapodicity. Florin and his peers have been involved in the development of the next iteration of the award winning Augmentifyit, an augmented reality education app available on the appstores and on Amazon.
'Florin naturally led a group of learners using his self-created management process that involved the use of 'Padlet', (an online team platform). Florin set tasks for himself and peers and arranged employer feedback on the product so that the team could develop and improve the assets created over time. I was impressed with how Florin managed his team, and how the team responded to his leadership style.
Florin was instrumental in arranging feedback meetings with the Chicago based developer and ensured that the team were making progress whilst juggling other school commitments. Seeing Florin talk about his experiences at Amazon HQ during the national launch of the Edtech50 2020-year book was fantastic and a very proud moment for us all.'
- James Culley.
 
Recognised: Adeel and Ashraful, for Application of Various Engineering Skills as part of a Motorsports Project.
Year 12 learners Adeel, Ashraful and their peers, have recently combined newly learned CAD skills, 3D printing, laser cutting, electronincs, programming and their passion for motorsports to create a fantastic, high quality replica of a formula E steering wheel that can be used with a Virtual Reality simulator based in the Virtual Reality lab at LDE UTC.
'This is part of the larger end product of a full scale formula E cockpit to help simulate the feeling of racing a formula E car. Adeel and Ahsraful have demonstrated commitment to an after school project where they have been learning these new skills. It was fantastic to see them passionately present 'steering wheel in hand' in front of the live audience at Amazon HQ
-Joshua Button, Digital Technology Facilitator, LDE UTC
Florin said, 'Going to a UTC has been one of the best decisions I have made. It is a more 'hands-on' environment. More practical work, more direct connections to the industry and to employers. More opportunities too. I have used my time at LDE UTC to perfect my skills, ready for university and for work, forging strong connections along the way.
My teacher, James Culley, has helped me a lot with building my confidence. The confidence required to speak in front of a massive crowd. From practising in class to presenting at the BETT show numerous times, speaking to numerous people about what we do and our skills has given me the strength to speak publicly at Amazon HQ for the EdTech50 award in front of 200 people!
Being nominated for such an award was an amazing experience, and an opportunity to show what students are actually capable of. I have built connections that will help me later on in university; connections that have given me an open door into the industry.'
'The Education Foundation's Edtech 50 judges were impressed by the hard work and commitment to using technology for learning displayed by pupils at the LDE UTC.
Learners' projects demonstrate their knowledge and skills, and clearly show pride in their school. The learners' presentations at the national launch at Amazon HQ London in front of a large group of head teachers, teachers and business people was first class.
Well done to Team LDE UTC!' - Ty Goddard, Director Education Foundation.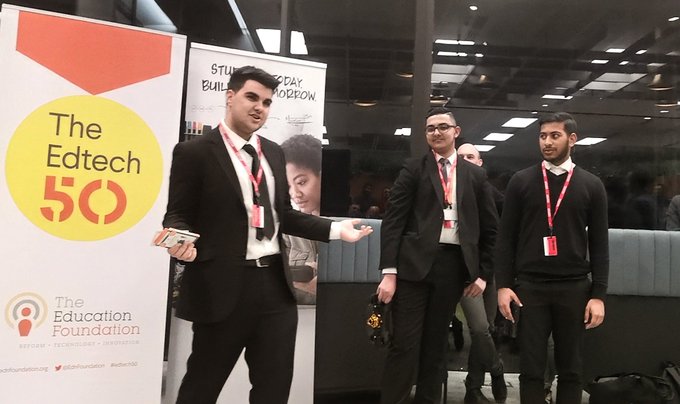 Florin, Adeel and Ashraful presenting at Amazon HQ
RIBA Explores Style with LDE UTC Learners
09.03.2020
by Furnaz Ahmed, Assistant Principal, Teaching & Learning
Space Popular and the Royal Institute of British Architects (RIBA) and our Year 12 learners worked together to unpick what influences our architecture and how style can have an impact on the way buildings look. Fred and Lara from Space Popular visited us and delivered a series of sessions where they explored ideas in greater depth.
The exhibition explores the effects and links of media (printing, photography, radio, television, video, internet, virtual reality) and style in architecture. The leaners were excited to see how architectural style relies almost completely on media.
The exhibition traces key events from the past 500 years leading up to our time – the time of the internet and virtual reality.
Learners received a number of workshops, including building their own Pinterest board to encapsulate the style in which they would build their own virtual space. They began to build their own social spaces on a free platform, Mozilla Hubs, which is for building social virtual spaces online, accessed through a web browser and can be shared with other colleagues.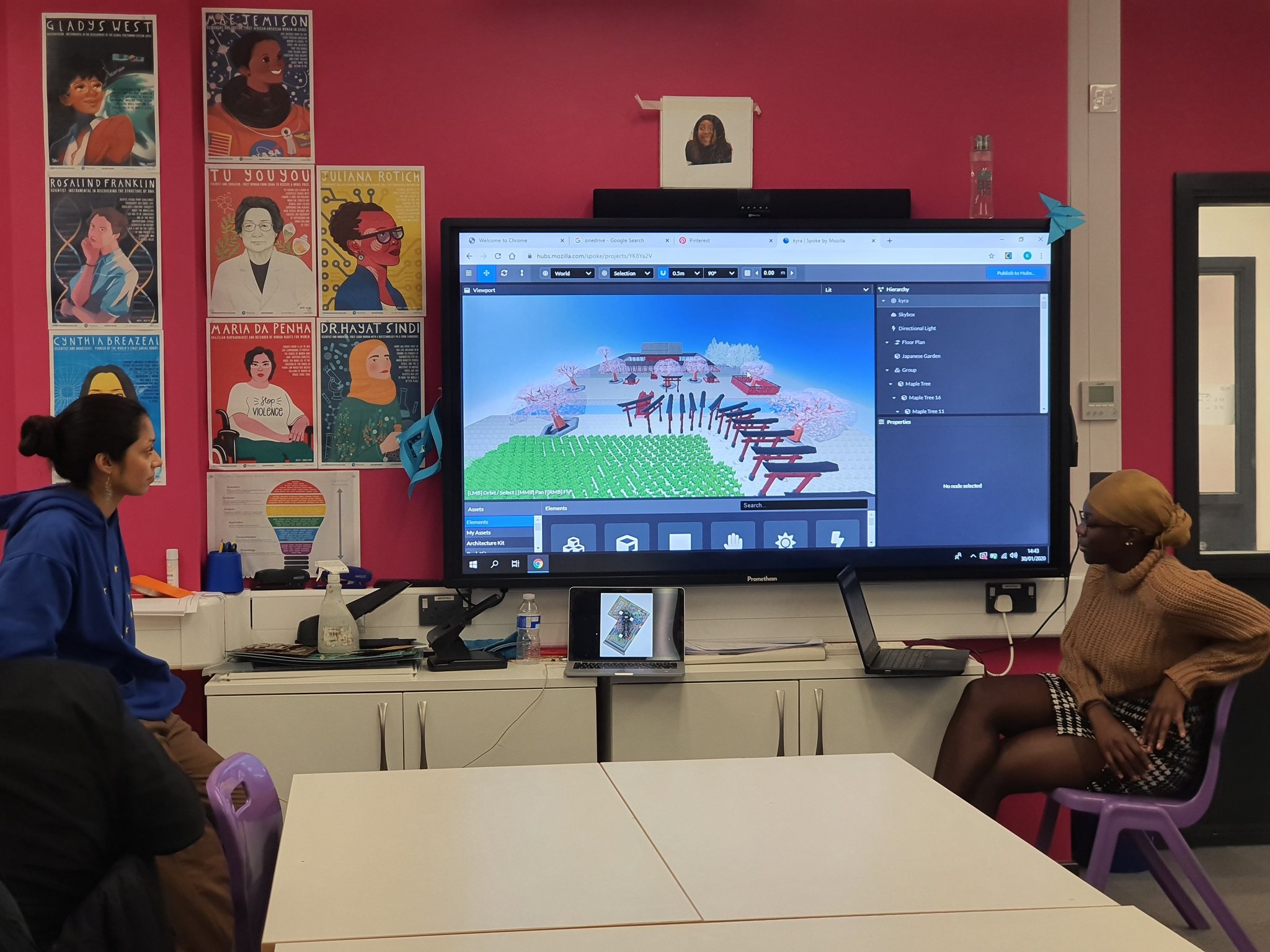 As learners designed and developed their own worlds, their discussions deepened. There were meaningful conversations on the impact of social spaces, and we witnessed conversation around which style to build in, and the effects on mood, behaviour and wellbeing.
The exhibition is now live and open to the public; it is being held at 66 Portland Place London until 16th May 2020.
It is a fantastic platform for our learners and we are so proud of the high quality of work being displayed.
You can read more about it here:
https://www.wallpaper.com/architecture/freestyle-exhibition-riba-space-popular-london
https://www.theguardian.com/artanddesign/2020/feb/27/architecture-translated-tiktok-age-freestyle-riba-space-popular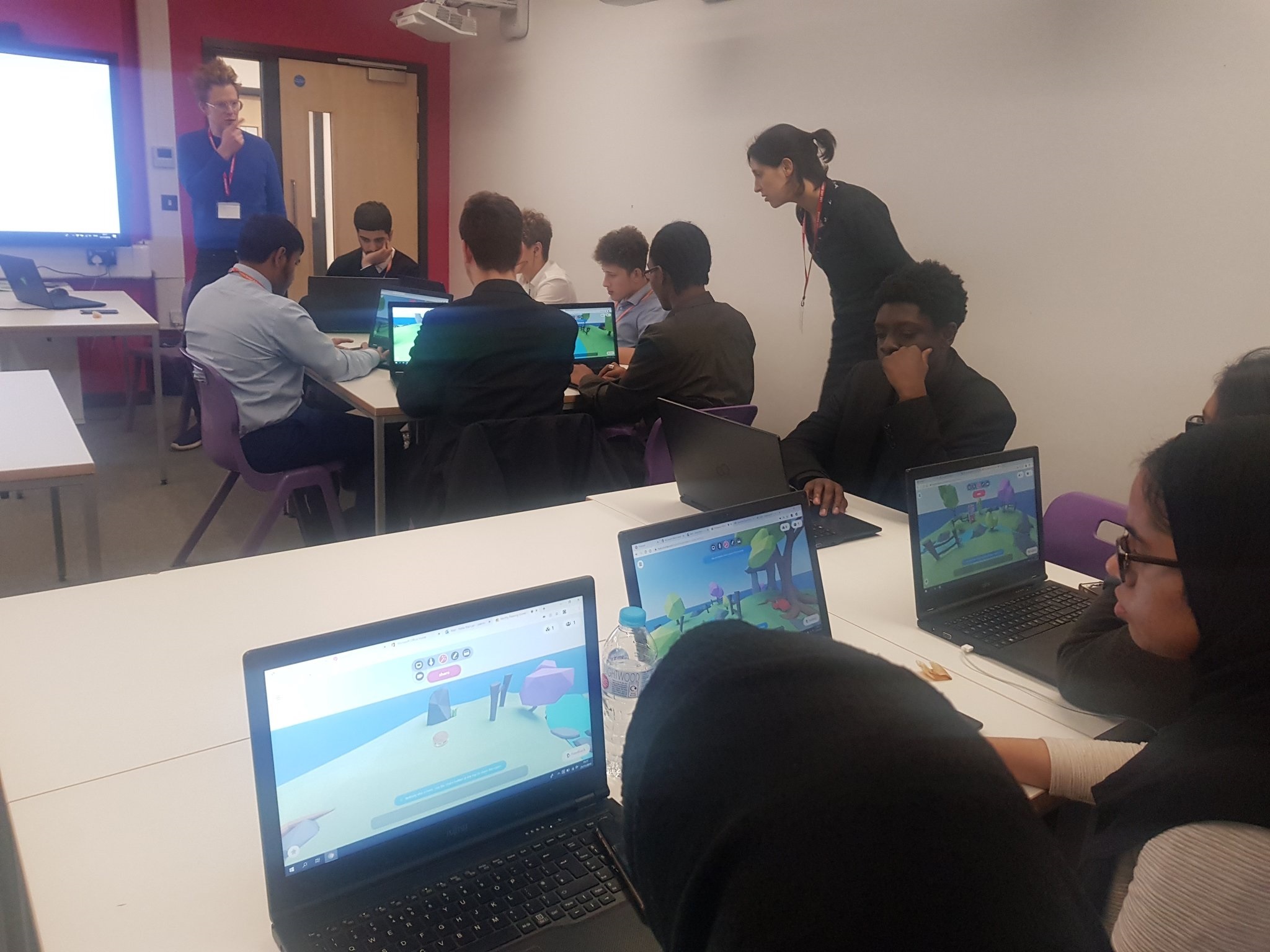 Happy Valentine's Day Everyone!
13.02.2020
To Everyone with Love!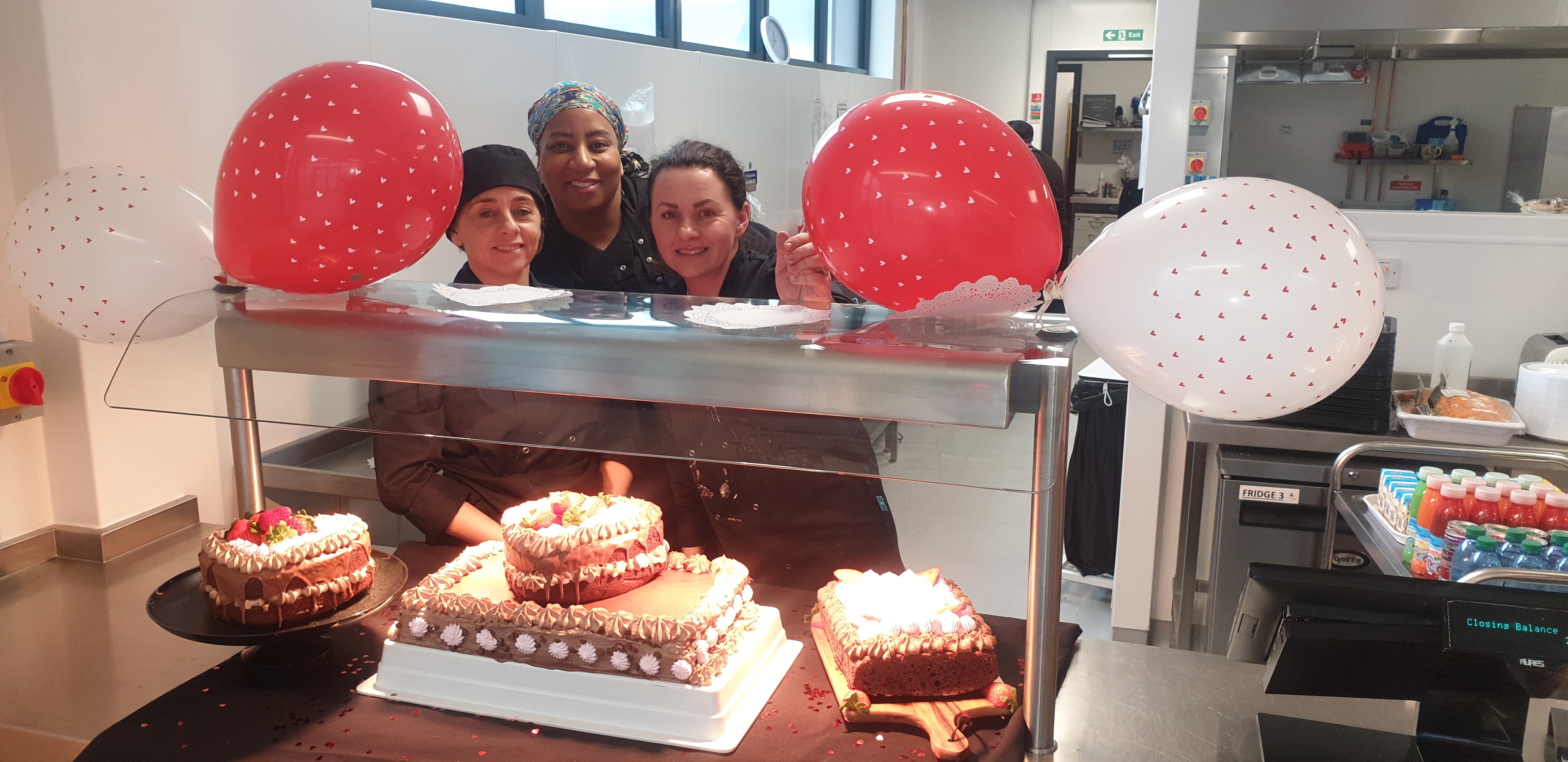 The wonderful and hardworking catering staff at the LDE UTC, delighted learners and staff with a magnificent array of freshly baked chocolate cakes to celebrate Valentine's Day.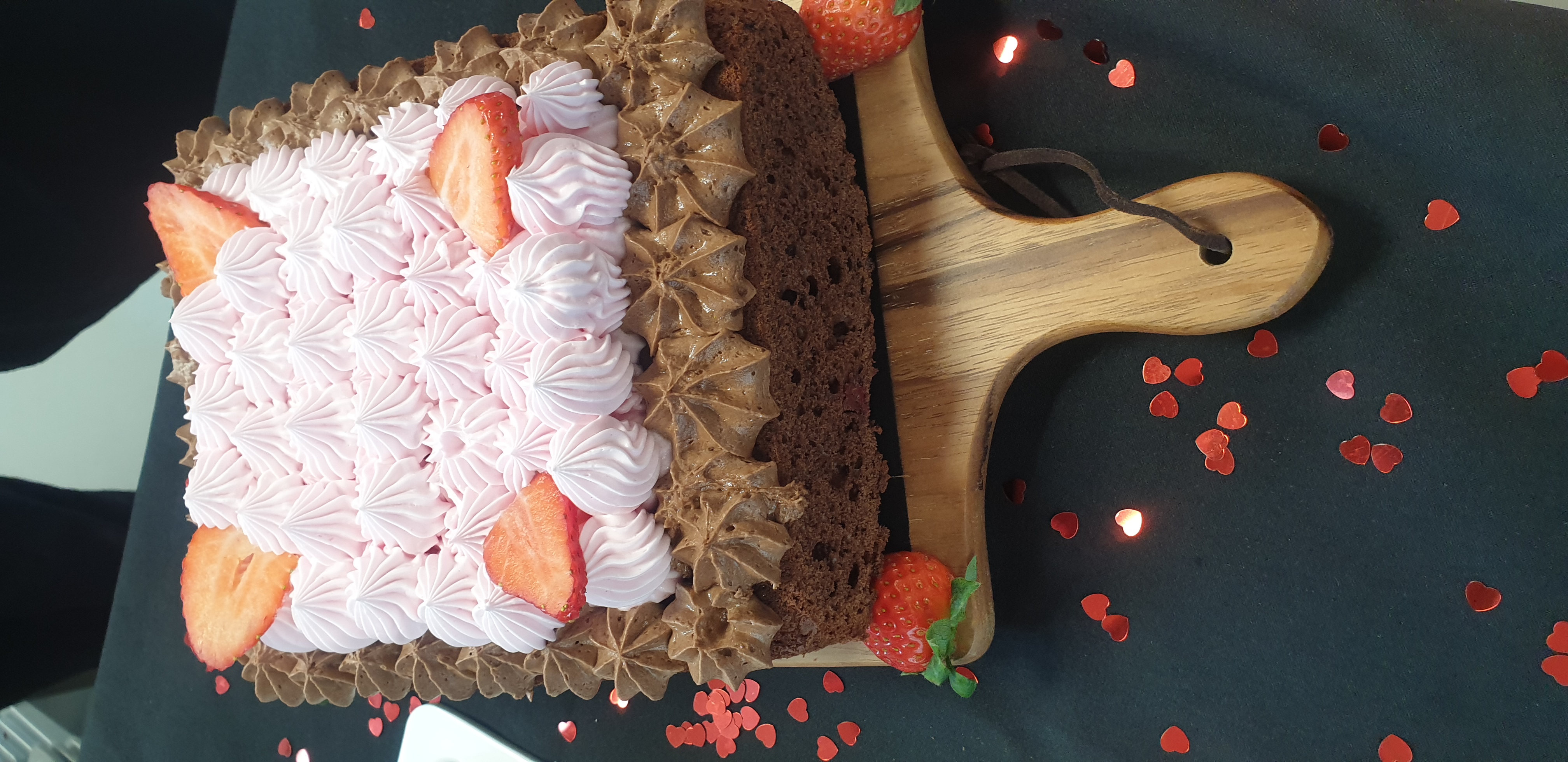 Multi-award winning chef Dana and her dedicated team spent the morning crafting these delicious cakes, which took over two and a half hours to make.
One learner in Year 9 said "it was the best cake that he had ever tasted!"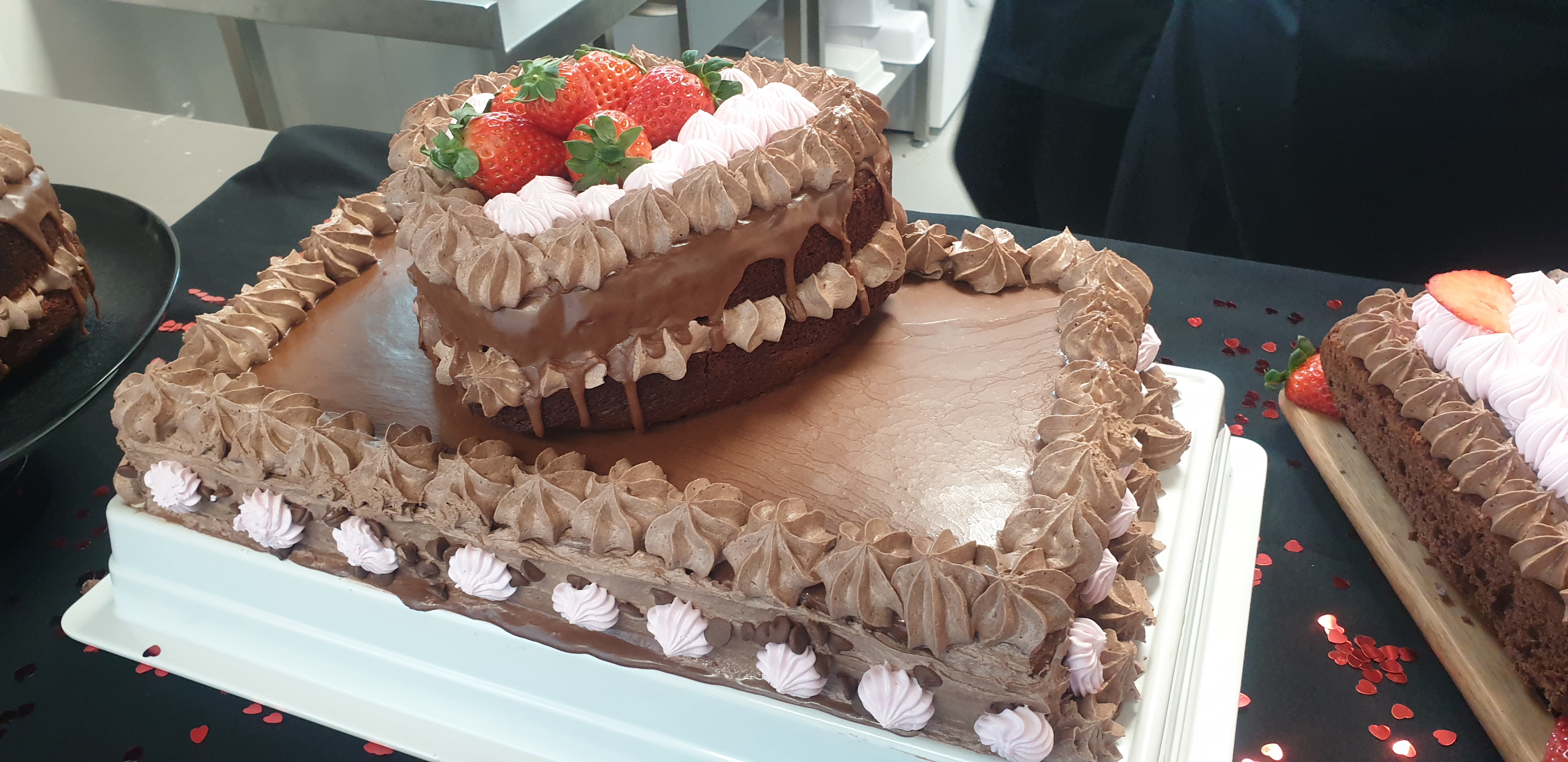 The catering staff also decorated the Dockside Restaurant, filling it with heart-covered red and white balloons for the occasion. "We always try to celebrate special occasions, and think of our learners in whatever we do. A lot of effort went into making it all work!" said kitchen staff member, Amandeep.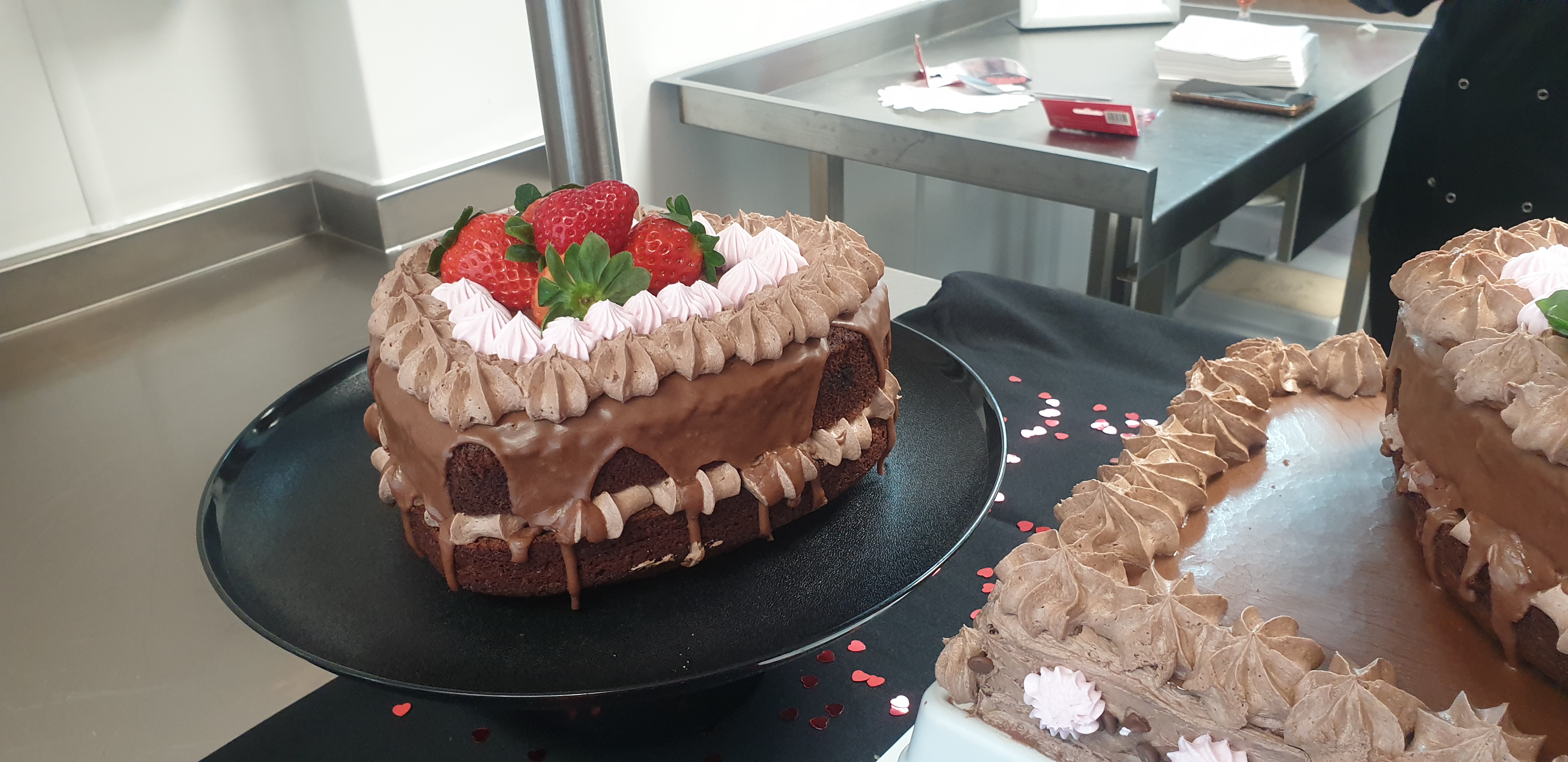 Beautifully presented and well-received, from a team who always go the extra mile, these chocolate delights went down a treat with everyone!
Brompton Bikes are the Business!
04.02.2020
by Charlie Evans, Interim Head of Faculty
Year 11 learners studying Engineering Manufacture visited Brompton Bicycle Limited's HQ in Greenford, West London.
"Brompton Bikes are banging! Best bikes in the business!" said Omari, a Year 11 learner who went on the visit.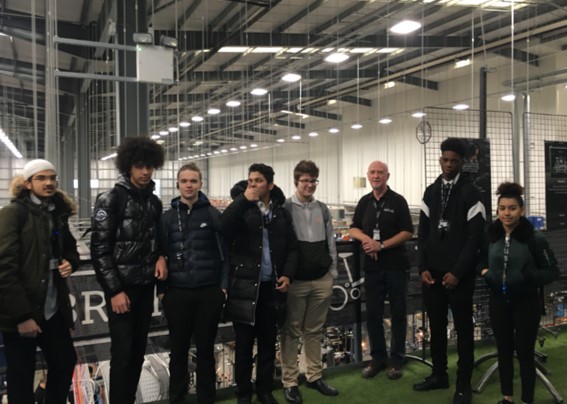 Hidden away on an industrial estate in the UB1 area is one of the most impressive companies in Britain. Brompton Bicycle has been one of the leading manufacturers of folding bicycles since Andrew Ritchie, its founder, created the first design 45 years ago.
Brompton Bicycle has had so much success because of its compact folding mechanism, but more importantly because of the subtle curve in the crossbar that allows it to fold down to just 585mm high x 565mm long x 270mm wide.
Learners were treated to a demonstration of how to fold it down and were challenged to beat the world record of collapsing the bike in just 4.21 seconds. After trying and failing to beat the record learners, they were led to the top deck of the factory. From where they could see the entire 980m long factory floor, busy with mechanics, designers, machine operators and many more types of engineers.
From here learners were led down into the factory itself to see the brazers. Brazing (is a technique of joining metals by melting and cooling brass) and requires a lot of skill. Each operator's work is scrutinised by the quality control team to ensure only the best builds make their way up the assembly line. Learners were able to inspect parts as they were being manufactured, and see lots of new engineering machinery. They were amazed by Brompton's ingenious vertical storage system.
Brompton bikes are tailored to the customer with millions of permutations of colour, racks, mud guards, reflectors and many other parts that customers can choose from. Learners witnessed each bicycle being built by hand and then being packaged there and then ready to be delivered. From brazing to end inspection a bike takes about four and half hours to build.
Louie, a learner, said, "the tour was interactive and a lot of fun, especially getting a chance to ride the new electric bikes at the end."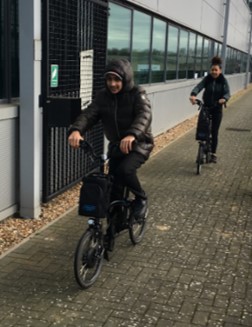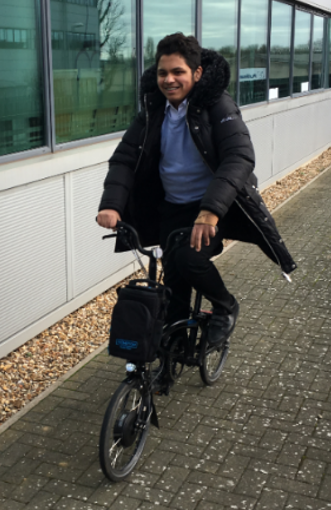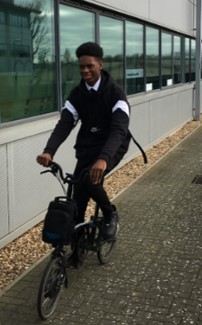 Prime Minister Honours LDE UTC with National Citizen Service Silver Award
31.01.2020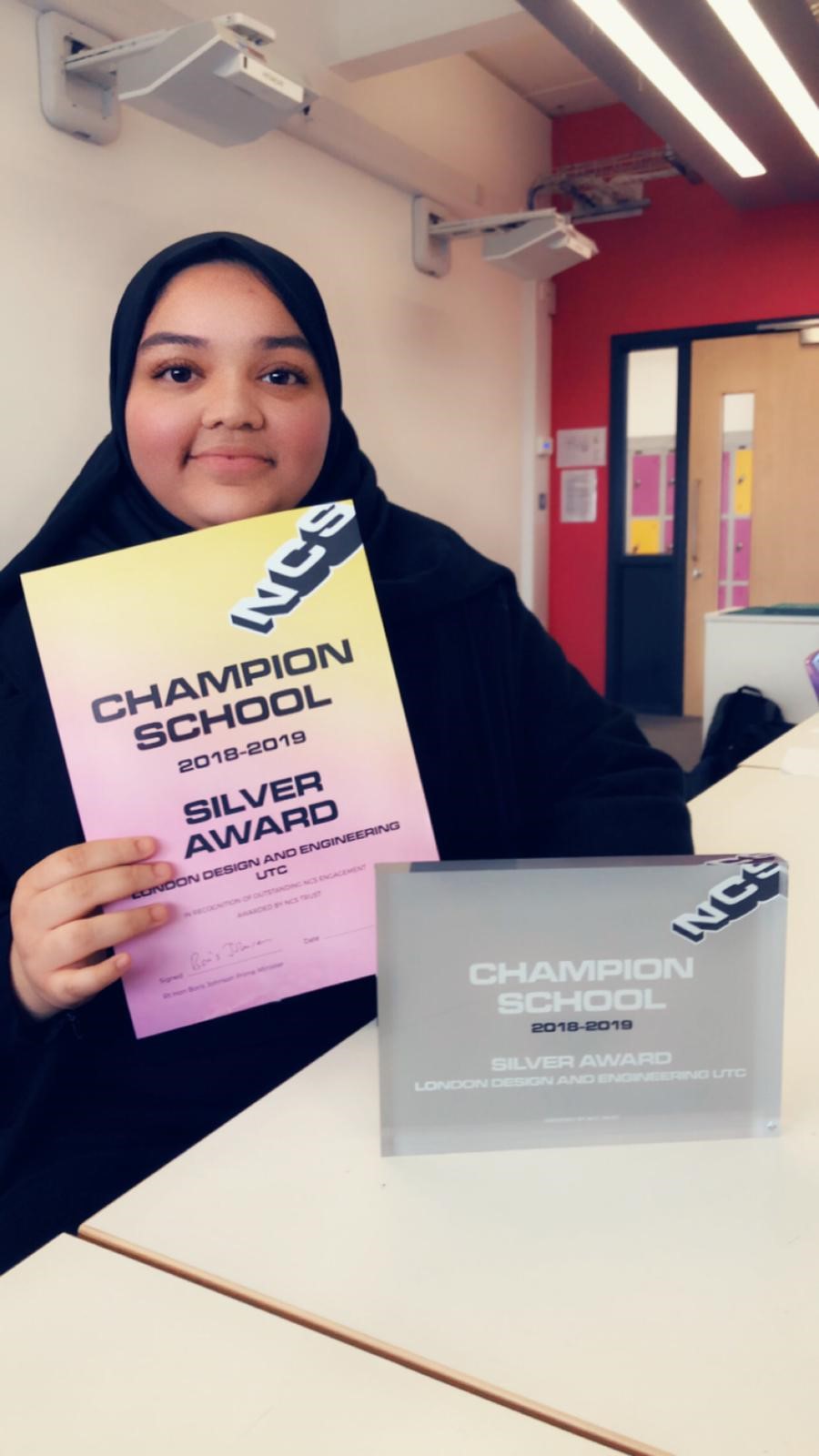 The LDE UTC is delighted to receive the Silver Award from the Prime Minister, Boris Johnson, for participation in the National Citizen Service (NCS) in recognition of the numbers of learners who participated in last year's challenge.
Following a presentation in assembly last year, Year 11 learners from the LDE UTC went on a NCS four-week summer residential challenge programme with other young people from across the country. The programme was specifically designed to take young people out of their comfort zones, enable them to overcome their fears to develop new life skills, gain self-worth and confidence. And best of all give them a unique and life-changing experience that will help them succeed in later life.
The NCS is a voluntary personal and social development programme for 16–17 year olds, largely funded by the Government. Groups of teenagers on the residential programme undertake outdoor physical and team building activities. Experience independent living whilst learning a variety of new skills for their future. Finally, they plan and deliver a "social action" project of their choosing, often to raise awareness of or fundraise for a particular cause.
Over 500,000 young people have taken part in NCS since 2011, with recent research showing that it improves outcomes for the teens who take part, including increased likelihood of getting into university. The LDE UTC is very proud of its relationship and work with the NCS.
The NCS will be coming to the College's Careers Fair on Wednesday 11th March. The LDE UTC would like to encourage all the current Year 11s to sign up for the summer 2020 programme and is hoping that next year it can go one step better and win the gold award.
LDE hosts guests from around the world!
30.01.2020
By Joshua Button, Digital Technology Facilitator
Last week the the Royal Docks played host to one of the biggest, internationally acclaimed, educational conventions. January 22nd-25th saw the 2020 rendition of the BETT show which attracted 35,000 visitors from 135 different countries. Read the articles below to find out how our learners were involved in employer engagement on the show floor. But whilst our learners were conducting employer engagement at the excel centre, we also had multiple groups from many nations visiting our college. Each nations visit centred around learning from our implementation and good practices of employer led learning, and possible collaborations between their respective schools and ours in assisting the implementation of what we do best. Many of these visits were conducted in assistance with our partners Promethean, who again you can read about in the articles below or in the numerous posts on any of our social media channels. (links are at the bottom of the page)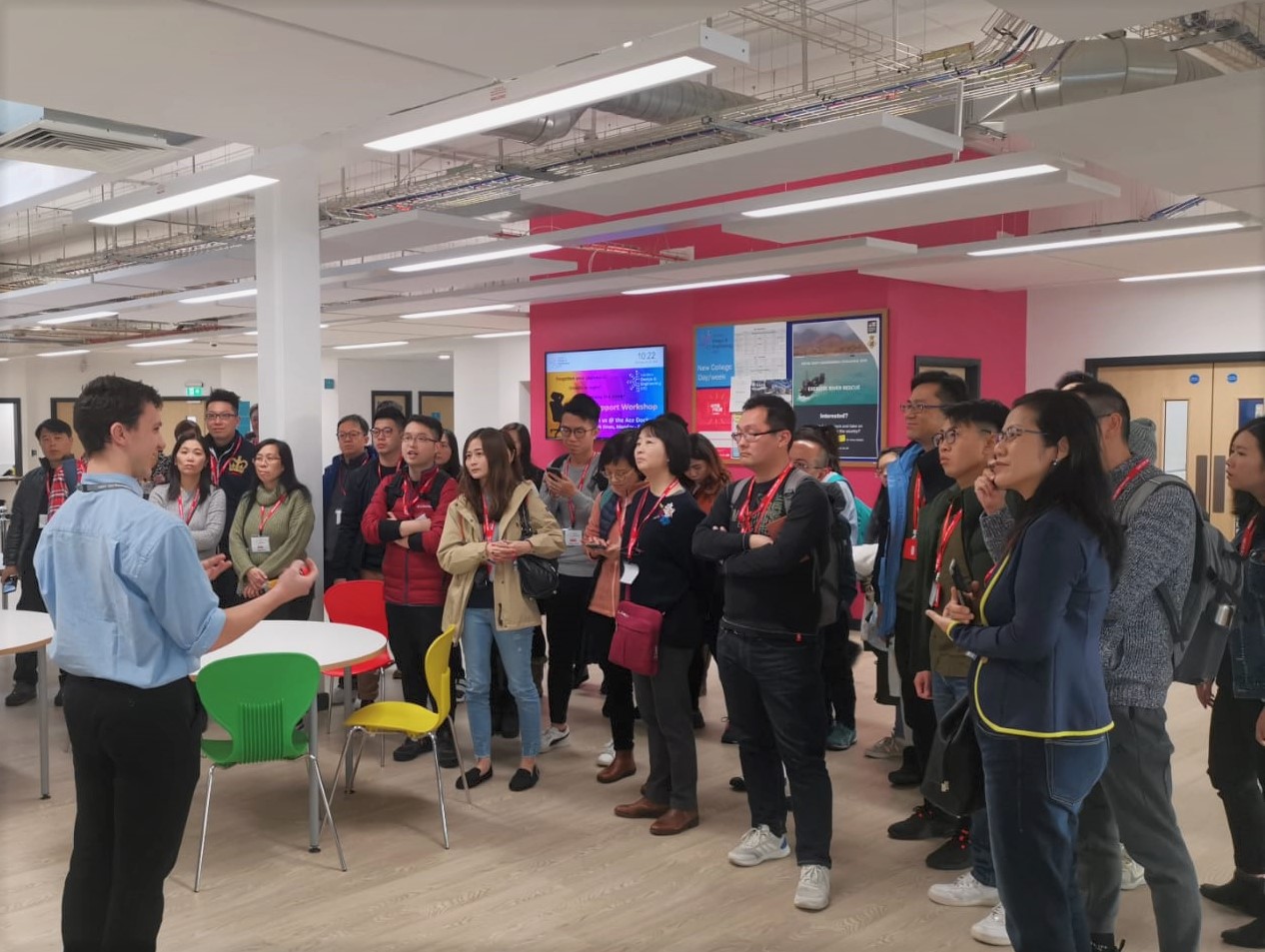 Monday we hosted 30 teachers and students from 4 different schools in Hong Kong. As aforementioned mentioned the purpose of their visit was to learn from our practices in employer led learning, but also our honouring of traditional hand on learning techniques. They specifically commented on the use of traditional hand tools in our metal and wood working fabrication labs; "We threw away our saws and planes a few years ago." Whilst comparing our use of technology at LDE to that of the schools in Hong Kong there are many similarities, a greater focus on next-generation simulation, modelling, and control systems at our college was interesting to hear. Though it was the hands on relationships between the engineer/craftsman and their materials, the learning pathway, and preservation of hands on skill in the workshop that stood out as a key for our learners who asked questions to the visiting teachers and students. This visit will be followed up with future online collaboration between staff and learners at LDE with staff and students in Hong Kong.
Next, on Tuesday we were visited by CEO's of Apisec, a EdTech provider to schools and universities in Mexico. We have worked with Apisec in the past, last year our LEGO Education lead travelled to the two biggest Universities in Latin America to speak at Apisec's conferences on LDE's implementation of employer led education and hands on learning mainly around the use of LEGO Education products in the classroom. They were so impressed with Shafina's talk they had to come and see how we do it first hand. Specifically they were interested in employer engagement inside and outside the classroom. The 2 CEO's had the opportunity to interact with some of our learners in the classroom, and were "amazed" at the level of knowledge in technology and understanding of industry displayed by our learners.The result of this meeting is LDE assisting Apisec in connecting employers and education providers across Mexico at a university level and school level. This will involve teachers from LDE having the opportunity to travel to Mexico and educate teachers there on their practices, providing our staff with a great insight into international education. Whilst also talks of possible learner exchanges between top private institutions in Mexico and LDE.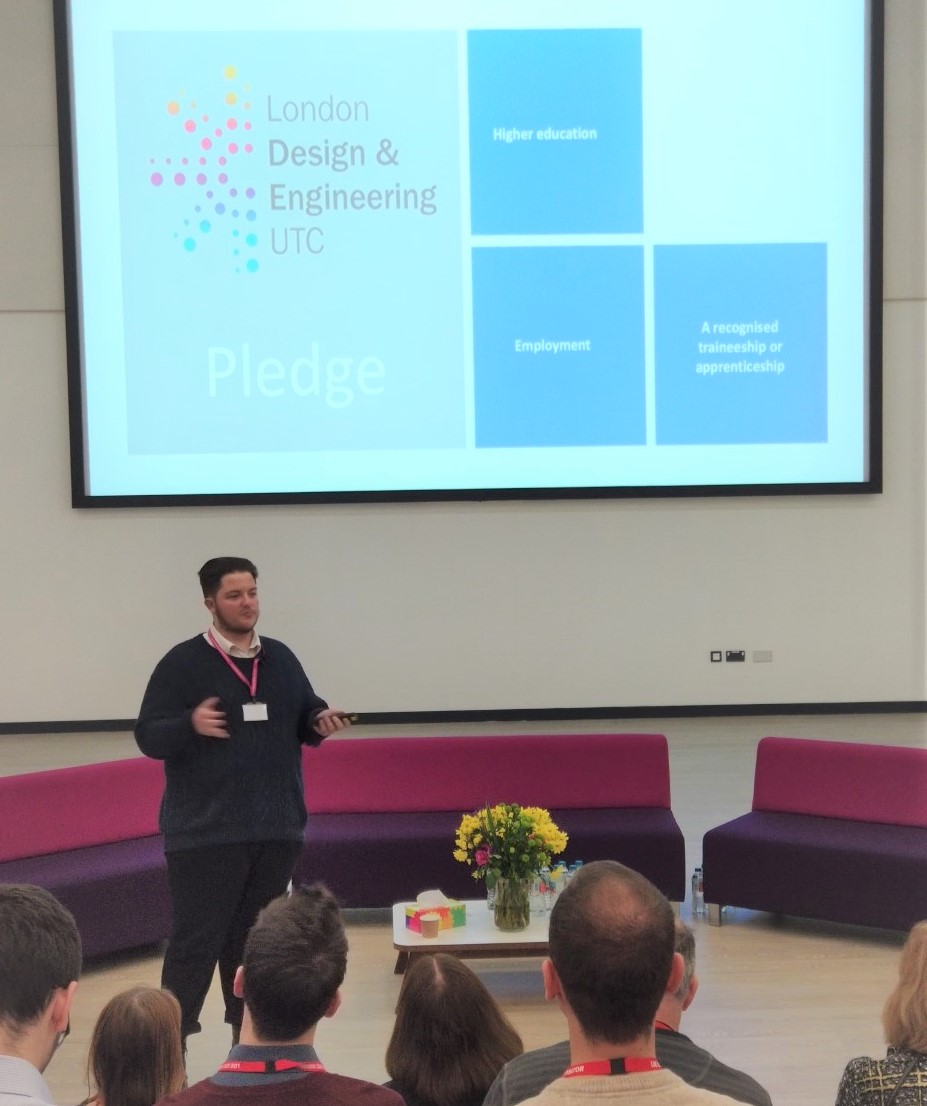 On Thursday morning we hosted the EdTech Conversations along with the EdTech Foundation UK, Intel and the ISC Digital Group. This event hosted in our main hall all morning was visited by over 150+ guests from CEO's of tech startups, heads of massive tech companies, educators, principals, and managers from all over the UK and even some international. Our learners were given the opportunity to listen to talks and network throughout the event with a Year 13 Learner Theo Vasiloiu conducting an introductory talk to very large appraise from the visiting audience. Though we were hosting the event our involvement through learners talks tours of the college, and networking throughout the event has resulted in more interest. These new contacts are currently being communicated with and will result with even more employer engagement for our learners over the coming years. Stayed tuned to our news feed and social media in the coming weeks to see some of our new partners popping up.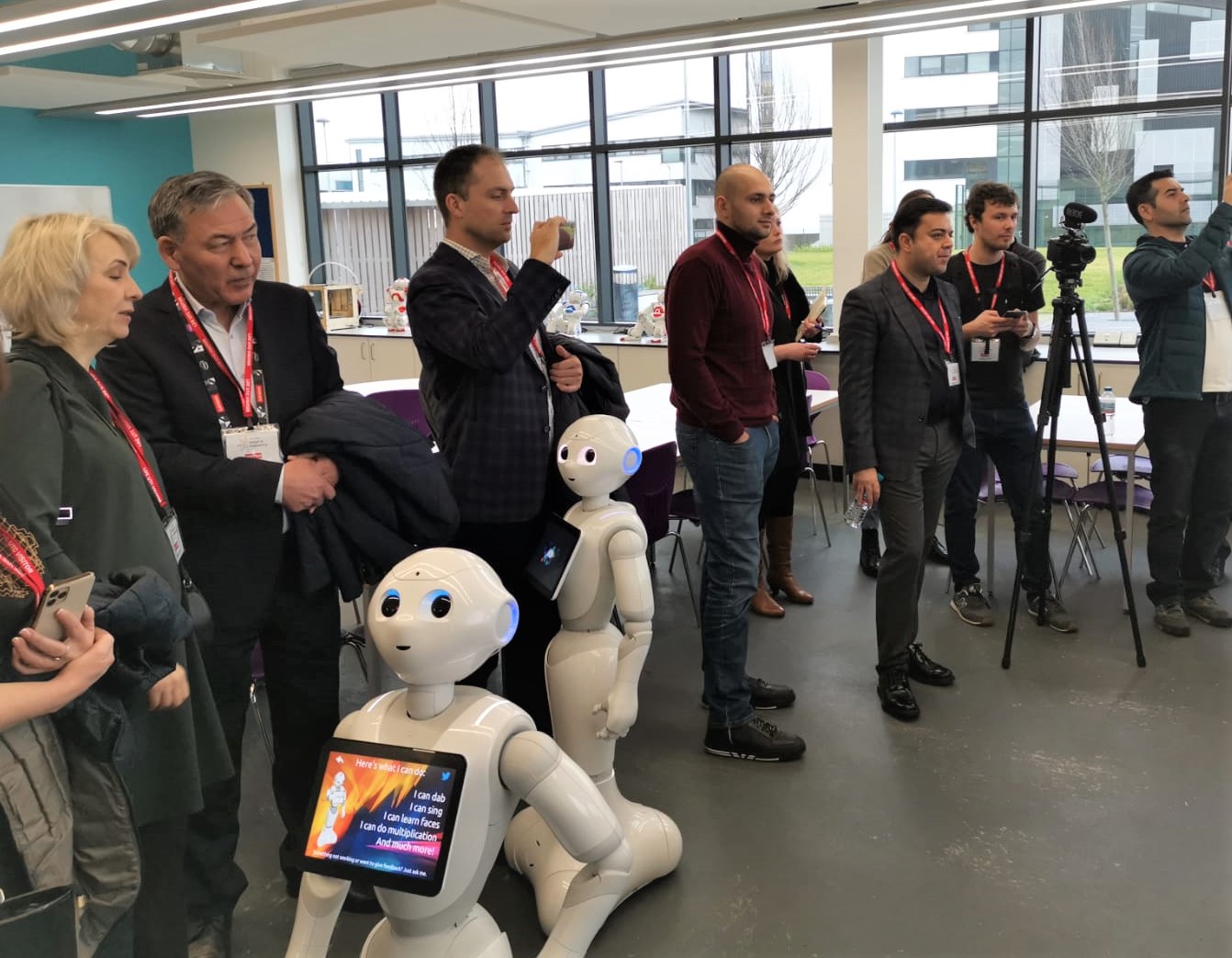 Finally on Friday we had a very big day. In the morning we were visited by a large delegation of ministers and companies from Ukraine, Azerbaijan, Turkmenistan, and Turkey. They were interested in the implementation of technology across the curriculum especially the use of robotic control systems, Virtual Reality, Augmented Reality, Artificial Intelligence societies, and interactive displays. The group were blown away with the learners grasp on technology in the classroom and the knowledge of our teachers. This has resulted in several companies and education boards requesting our teachers visit their premises for a few days to train their staff. This also offers the opportunity for our learners to interact with students and teachers from around the world, collaborating digitally and potentially physically in their countries. Also several EdTech providers have expressed interest in having learners do overseas internships based off of the skills they have seen displayed in our classrooms. As I stated before stay tuned for more about this in the coming weeks. Lastly, but not least. Friday afternoon we were more then happy to host 2 separate High Schools from Moscow, Russia. The groups of students were especially intrigued in how our learners were learning through experience and hand on education. Our learners had a great time asking them questions about their education system as well. After their visit we received some lovely feedback from Promethean who was contacted by their head teacher: "2 weeks in London, and the thing that impressed our students the most wasn't the Tower of London or the Shard, but the tour of LDE UTC and interacting with the staff and learners ." To this day our staff and learners are still sharing correspondence with the learners and staff of High School No 576 in south Moscow. We are looking forward to collaborating on some space oriented projects in the near future through another recent partner and more possible exchange programs. As well they were accompanied by a large Educational News Outlet reporter who was "blown away" by the teaching styles, equipment, and passion exhibited by our staff and learners.
All in all, it was a very busy week for out learners and staff. But the friendships, knowledge, and partnerships we have finished with made the week all the more worth it. Next is to continue developing and communicating with all of our new found global friends. As I have mentioned throughout this article stay tuned to our social media, and here on our News Feed to find out more about LDE's global reach in the coming weeks and months.
Special thanks to Promethean for arranging the tours on Monday and Friday. Ayeesha Bhamji, Apprenticeships Assitant, here at LDE for her organisation of the LDE timetable around the BETT show and making sure everything ran smoothly. James Culley, Assistant Principal, for his amazing presentations at BETT and engaging tours of our college. Theo Vasiloiu, Year 13 learner, for his fantastic talk at the EdTech conversations. Biggest thanks of all to the other LDE learners. You represented your college with prestige and pride, the feedback we received from many parties at BETT and our visitors to the college was impeccable.
Learners augment the BETT show with Augmentifyit and Promethean
29.01.2020
by James Culley, Assistant Principal & Teacher of Digital Media
Our Year 12 and 13 Digital Media learners and teacher James Culley have been busy collaborating with app developer 'Peapodicity' on our amazing award winning app 'Augmentifyit' which is available on the appstores and on Amazon.
Augmentifyit integrates custom 3D models created by our Digital Media learners and facts about the human body and the periodic table researched by our academic students as part of a cross curriluar activity and themed learning project. The results are a real world product and extensive opportunites for the learners involved.
As a part of an ongoing collaboration with Augmentifyit, our current Year 13 learners are working on the next top secret iteration of the app as part of their meaningful emp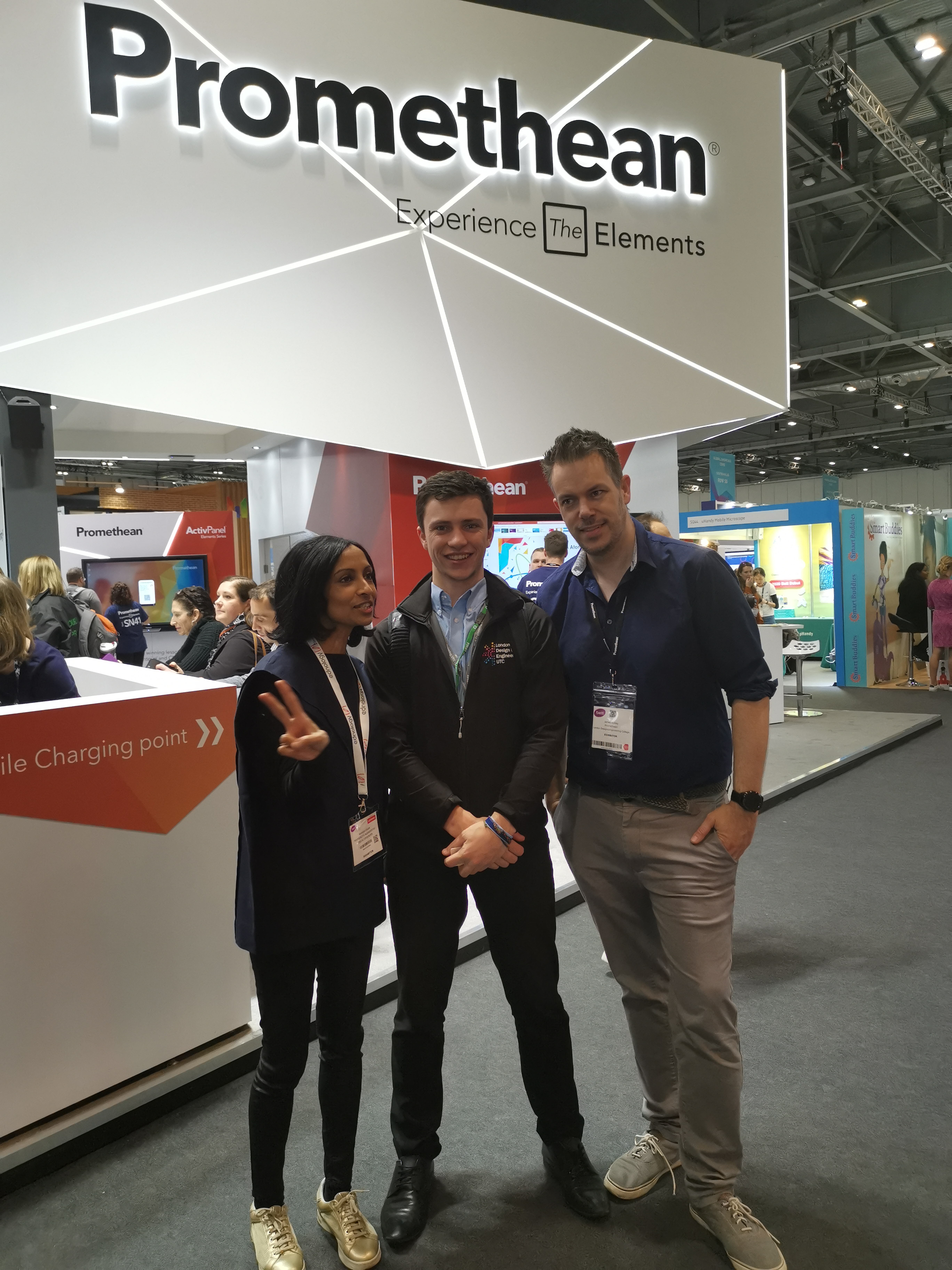 loyer engagement aspect of their Cambridge Technical Digital Media studies.
During our collaboration with Promethean at the BETT show 2020 learners were given the opportunity to demonstrate the app on stage with Augmentifyit's co-founder Ahrani Logan who had this to say: "It was wonderful to see the LDE UTC learners passionately showcasing their AugmentifyIt AR project work recently at BETT2020. Their 3D and research work for AugmentifyIt Elements - The Periodic Table of Me was of high quality, and it was great to hear about their experience of working on a real world project brief in and around their schoolwork and exams.
We are excited to continue working with students and teachers at LDE UTC. A talented group of next generation 3D creatives is emerging from the school and we are delighted to be part of their journey."
Year 12 learner Maria, who had the opportunity to take part in the presentation and is studying 3D modelling said:
"It is brilliant to have the opportunity to be part of something that is on the app store and available online, I am new to 3D modelling but I feel really inspired to learn more and see our product out there!"
We would like to thank Ahrani at Augmentifyit and Promethean for supprting the learners at the event!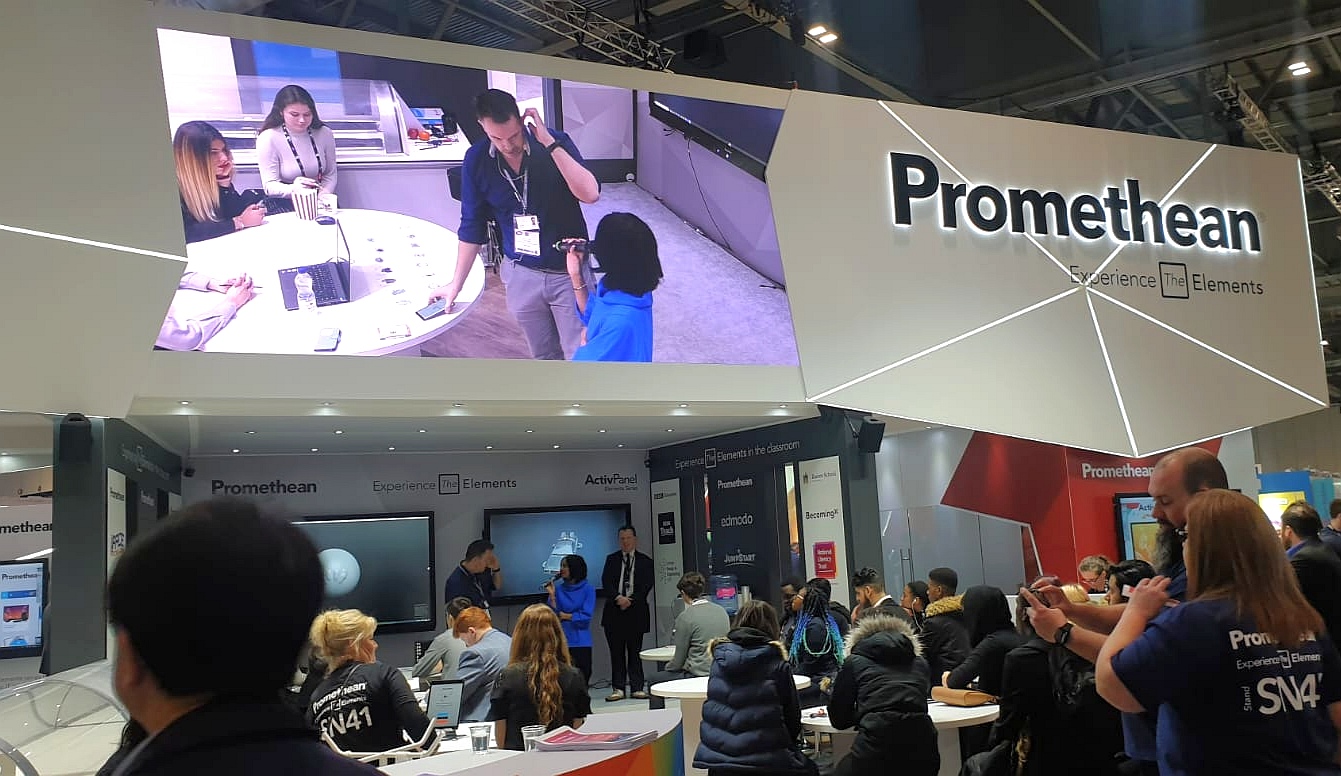 Learners demonstrate 3D tech at the BETT Show 2020!
28.01.2020
by James Culley, Assistant Principal & Teacher of Digital Media
Meaningful employer engagement is integral to the learning experience here at LDE UTC and very relevant to the studies of our Digital Media learners, who are brimming with excitement after running a series of 3D technology workshops at the BETT show 2020, an industry education technology trade show with over 34,000 visitors!
Following a long running collaboration with Promethean, a global leader in interactive displays, Assistant Principal and teacher of Digital Media James Culley worked with his year 12 Cambridge Technical Digital Media learners and the Promethean marketing team to produce an innovative project brief. The brief was designed to enable learners to achieve their 'meaningful employer engagement' learning criteria and, more importantly, take part in a series of workshops to demonstrate 3D technology to thousands of visitors over two and a h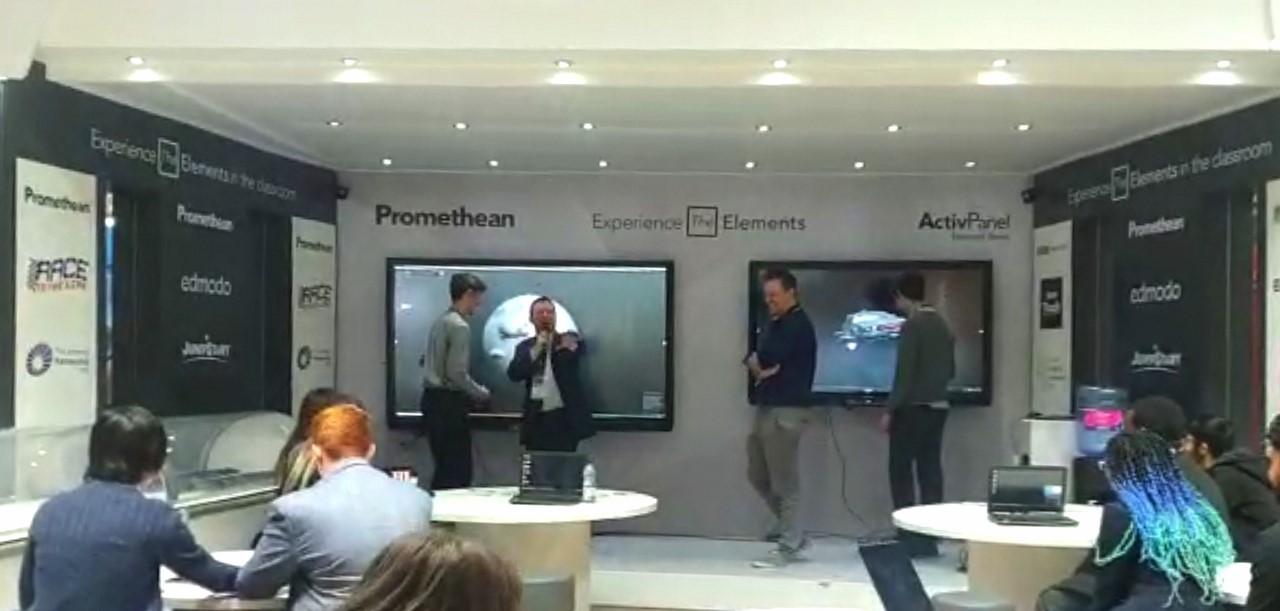 alf days.
Learners took part in no less than five separate workshops where they demonstrated realtime 3D digital organic modelling using Sculptris and the fantastic touchscreen Promethean Active displays. Learners manipulated 3D meshes and described the tools they used in realtime, they also encouraged audience participation by inviting them on to the stage to test the technology for themselves.
Another group demonstrated the use of Virtual Reality by demonsrating their original custom made environment and assets, onlookers were amazed at how adept the learners were at using the technology but also to find out that they had created everything that was being shown on screen themselves!
James commented: "It was fantastic to be able to stand back and give the microphone to the learners and watch them confidently host, demonstrate and present on the Promethean stand. The workshops have enabled all of the year 13 digital media learners to meet a large element of their qualification, which is excellent!"
Following the event, Promethean praised learners for having a fantastic digital skill set and contributing to the evidence required for their course. Promethean will continue to support our learners with an exciting new Promethean demonstration centre at our college (more news on this later!).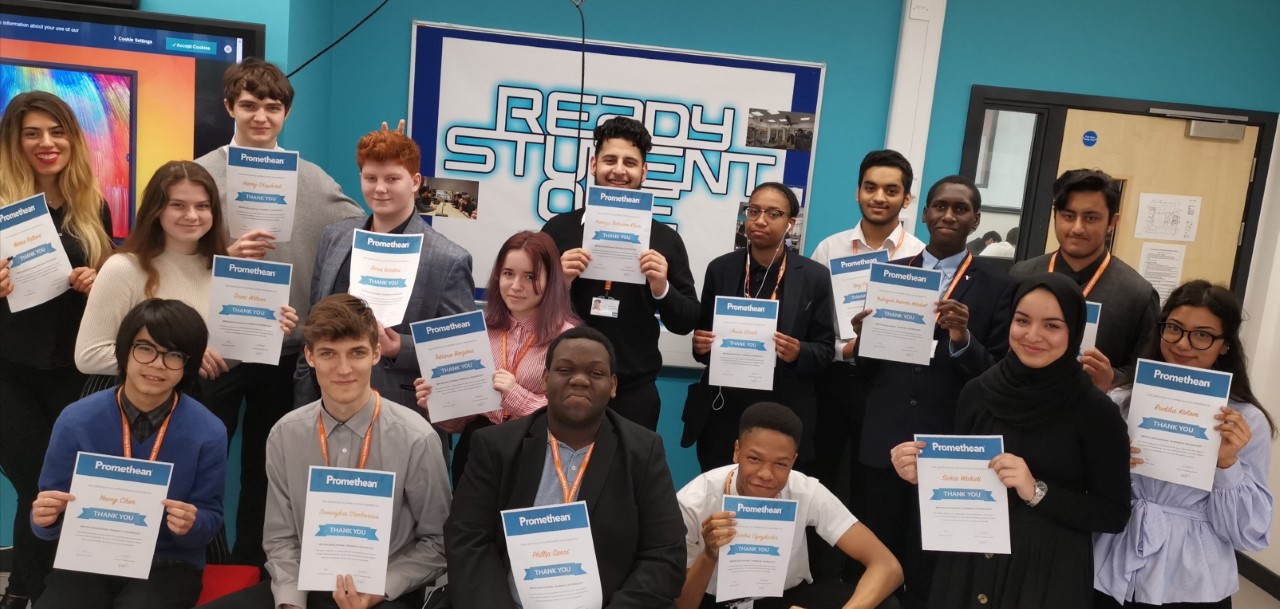 Elite Exposure!
27.01.2020
LDE UTC Rowing Club Help Out at CROSSFIT STRENGTH IN DEPTH 2020 Competition
By Jonny Morgan, Head of Year 12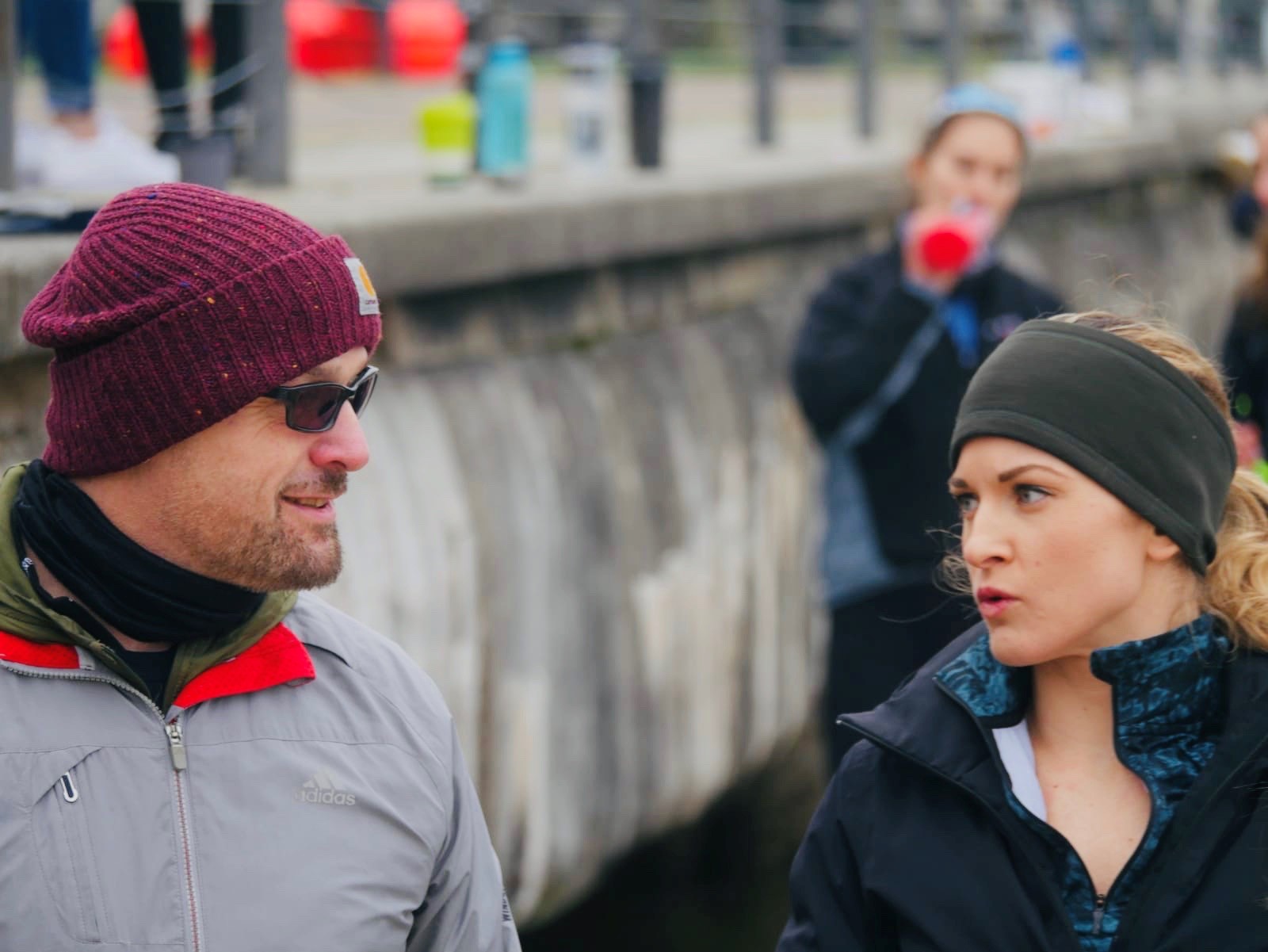 On a cold and misty East London morning on Saturday the 25th of January 2020, an intrepid group of Year 12 LDE UTC Indoor Rowing Club members and their Head of Year, Jonny Morgan, became the support crew for the CrossFit Strength in Depth 2020 competition at the ExCel London Centre.
The learners were proud to have been chosen to play a significant part in an official UK CrossFit sanctioned event, where the winning elite athletes from the male, female and team divisions would then be selected to compete in the Global 2020 Reebok CrossFit Games in Madison, Wisconsin, USA in August.
The College's own Indoor Rowing Club, who are in partnership with London Youth Rowing (LYR) supported the elite male and female rowing event held at Royal Victoria Dock next to the ExCel Centre.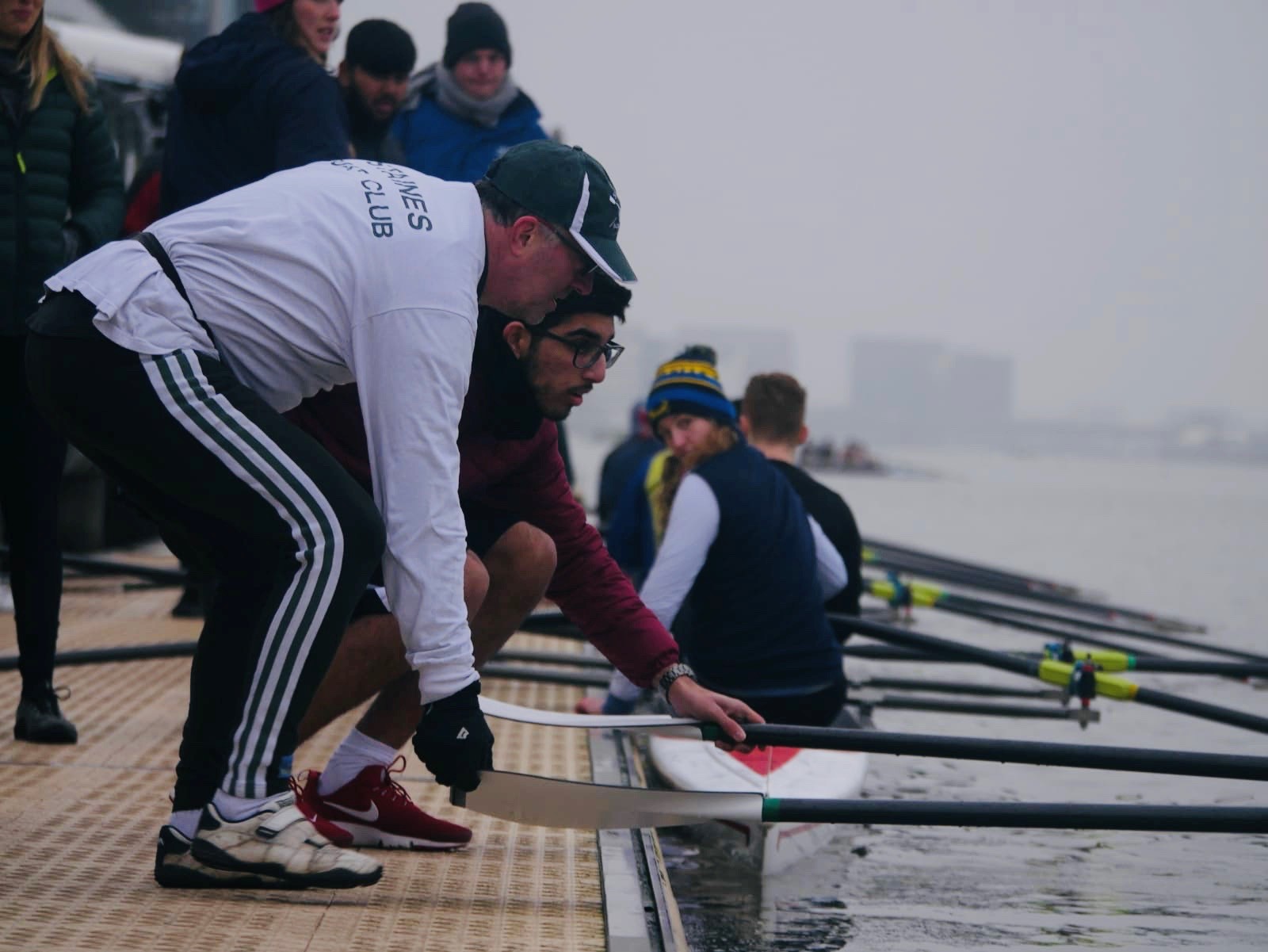 The rowing was the 3rd event of the overall 'CrossFit Strength in Depth' competition, which on the day tested the elite athletes across 500m of water, and then in all areas of fitness over the two days.
The LDE Rowing crew worked diligently from 8:00am and 12:00pm, alongside four times Olympic Gold Medallist, Andrew Triggs Hodge, who is a key figure at Tideway, one of LDE UTC's sponsors.
The LDE Rowers stayed motivated throughout, along with Jonny Morgan and LDE UTC's Digital Technology Facilitator, Joshua Button, despite the cold and damp conditions. They assisted the athletes as they arrived at the rowing pontoon, helping them into allocated rowing boats and setting up their oars prior to the competition.
This was a great opportunity for LDE UTC learners to be part of a major sporting event in London and to meet some of the fittest people on earth. This included the 'Fittest on Earth' and four times CrossFit Games Champion, Matt Fraser from the USA who was paired with Andrew Triggs Hodge.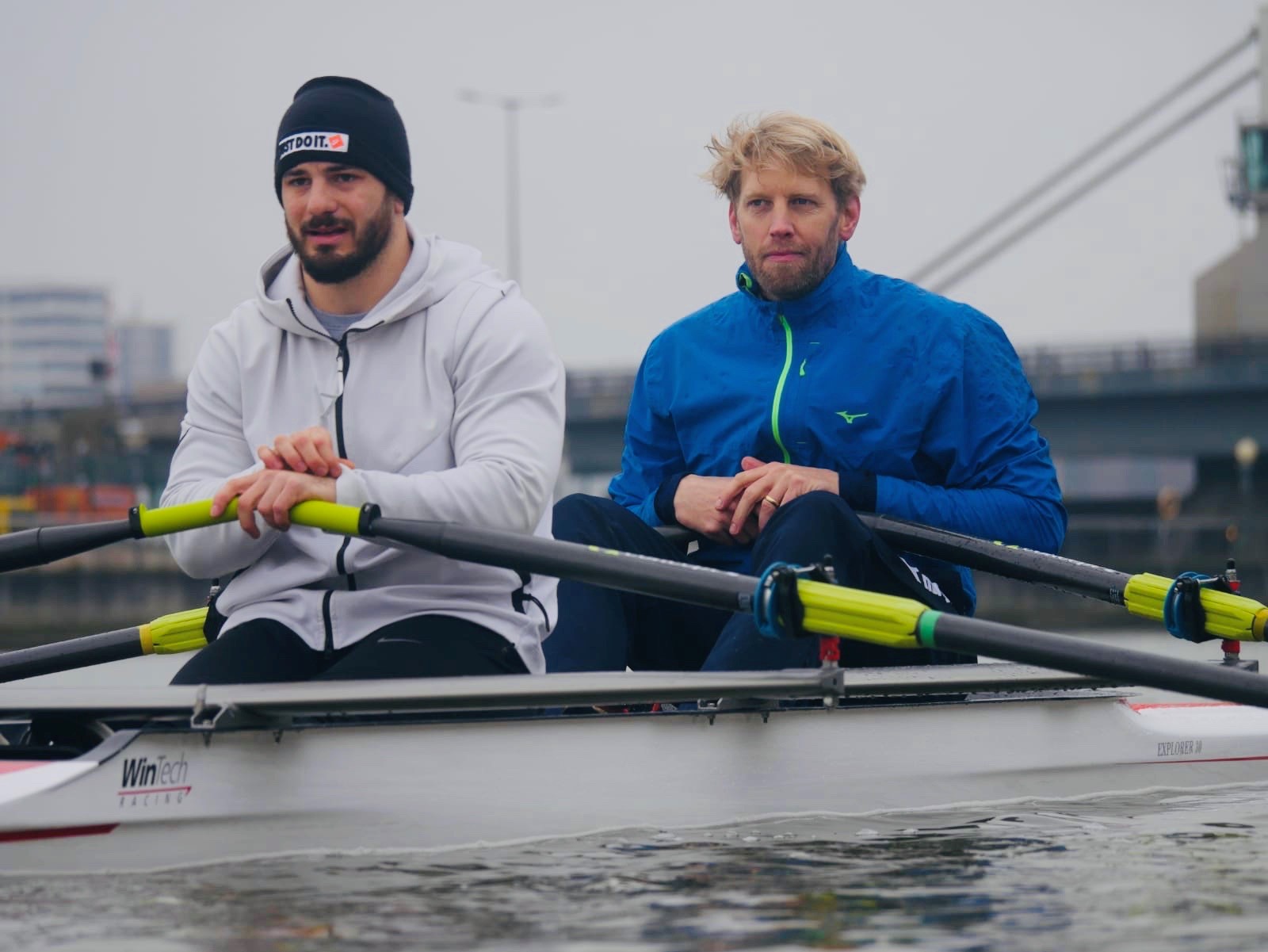 Isobel Turner and other staff at LYR, together with Team GB Rowers, and several CrossFit athletes all complimented the LDE UTC Rowers on their positivity, hardworking attitude, and politeness throughout the event.
On a personal note, I was incredibly proud of each and every one of the young men, who truly represented the college in the best ways possible, making the day a great success for all.
Following this event, the LDE Rowing Club has entered a team into the National Junior Indoor Rowing Championships at the Copper Box on February the 28th and with the support of Team GB coaches and LYR, will be training on the water from March 2020.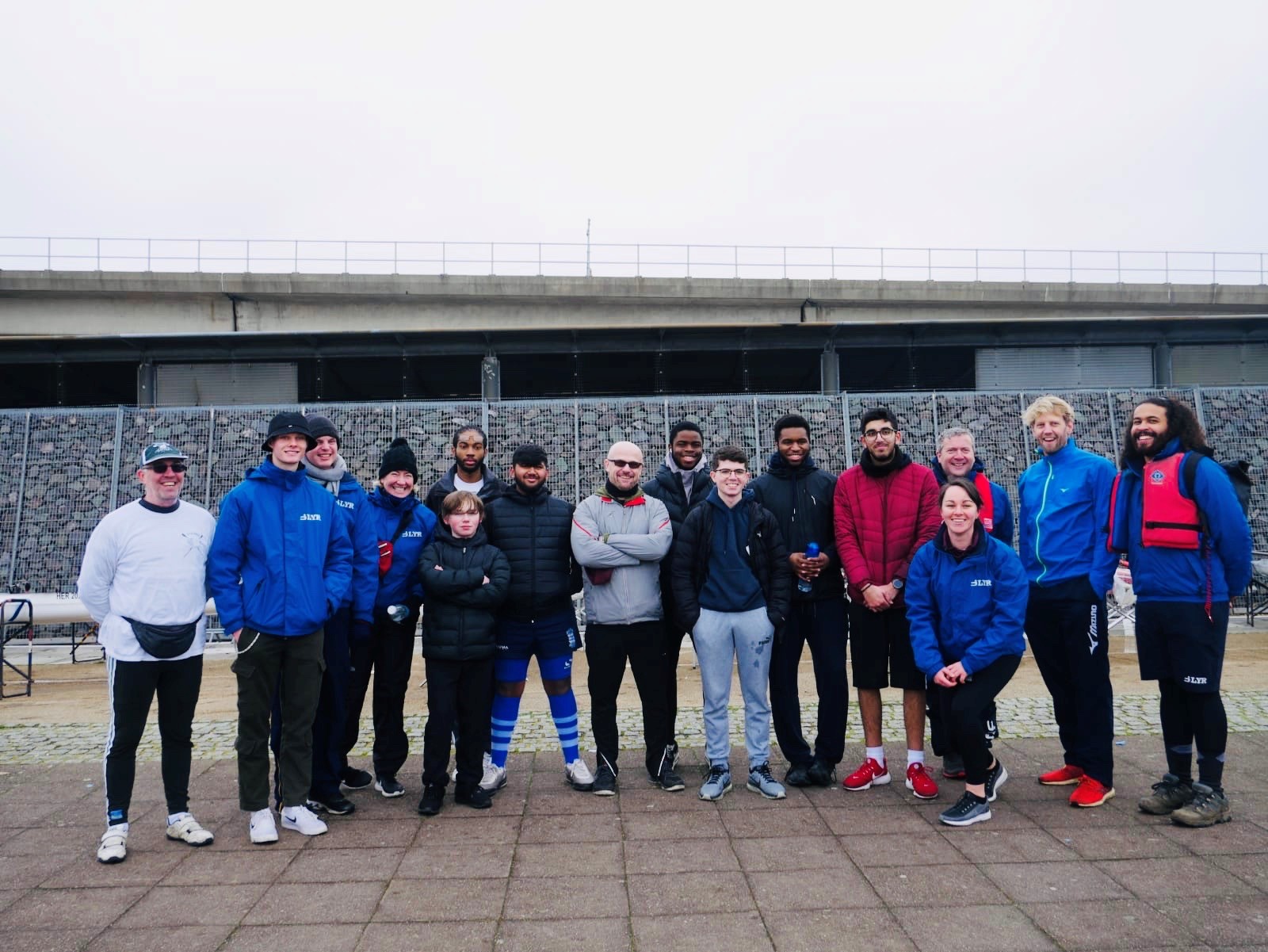 The Mathematical Equations Behind Alien Life
24.01.2020
The Christmas Lecture on 'The Mathematical Equations Behind Alien Life' at The London Design & Engineering UTC attracts record interest from local learners.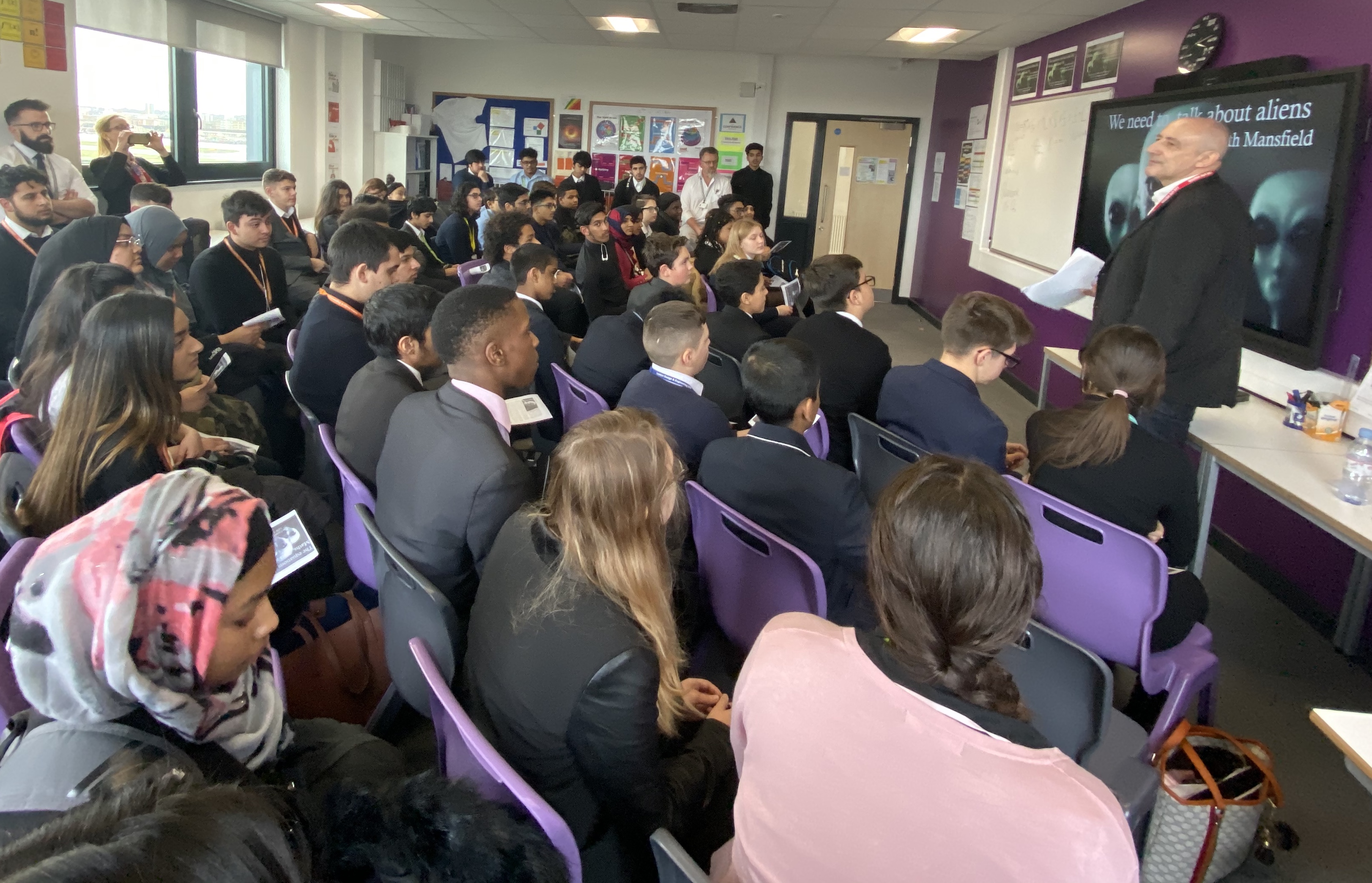 On Monday 16th December, Dr Keith Mansfield, science writer and author of the Johnny Mackintosh series of novels addressed hundreds of learners at the LDE UTC in an inspirational and interactive seminar, discussing the mathematical equations behind the possibility of alien life. Keith who is currently collaborating with the European Space Agency (ESA) and the Norwegian Space Centre (NOSA or Norsk Romsenter) on expeditions to the Arctic circle to study the aurora and how it protects us from the bombardment of solar storms inspired our learners with his breadth of knowledge.
Addressing the learners in the seminar Keith talked about the latest research from SETI (the Search for Extra Terrestrial Intelligence), the importance of the Drake equation in determining the number of civilisations in our galaxy with which communication is possible, the importance of the fermi paradox when discussing alien life and the idea behind the Great Filter. In the lively Q&A session which followed, Keith addressed questions on how might we recognise aliens if they are so alien, how to travel to faraway star systems and how humans might survive the death of the Sun all the while trying to convince attendees that they were actually living in a simulation.
The seminar was attended by the Senior Leadership Team and many of the teachers at the College.
Hayder Khan, Head of Faculty for Mathematics and Economics and event organiser said "The 'Christmas Lecture series' initiative, now in its second year, is an excellent way for us link the study of mathematics to the real world around us and to stretch and challenge our learners beyond the scope of the syllabus."
Geoffrey Fowler, Principal of LDE UTC, said "This was an excellent Christmas Lecture. Using maths theory to determine the chances of alien life was off the radar. The mystery of alien life existence captivated us all whilst, applying mathematical probability allowed us all to realise and understand further mathematical equations in a fun and enjoyable way."
Craig Whiteman, A Level Learner, who attended the seminar said "I was chuffed that I finally got to understand in a lot more detail the Drake equation and how it is used in conjunction with the fraction of those planets that develop intelligence and interstellar communication to predict the possibility of alien life. I'm grateful to the maths department for inviting Keith Mansfield to the College."
Ushering in the Festive Period
12.12.2019
The LDE UTC held an inclusive Christmas Service to spread some cheer, goodwill and support for the needy.
The LDE UTC's Chaplaincy Service in conjunction with the College Choir held a Christmas Service on Thursday 12 December for all learners and staff, to spread some merriment and festive goodwill.
The traditional Christian service, delivered by Joy and Mother Vienna the College's resident Chaplains was held under the UTC's beautiful Christmas Tree. The service also had an inclusive message to engage those of other faiths and none, about being charitable and reflecting on the poor and needy, particularly those who may be alone, homeless or in temporary accommodation at this time of year.
The heart-warming service culminated with the College learners and staff collecting winter coats, woolly jumpers, hats, scarves and gloves to donate to charity and help those less fortunate than ourselves.
Chief Financial Officer, Dave Watherston was one of the attendees who enjoyed the service. He found it heart-warming to hear the learners expressing their commitment to helping other, "It was great to attend this Christmas Service, and lovely to hear our learners talking about helping those in need at this time of the year, and all year round. I was very impressed with the amount of money raised for charity along with generous donations of warm clothing given by our learners and staff."
Rowing for Gold
19.11.2019
Three-time Olympic Rowing Champion coaches LDE UTC Learners
The LDE UTC's first ever Inter-Sector Rowing Competition in October was attended by none other than Team GB's three-time Olympic Gold medal rowing champion, Andrew Triggs Hodge OBE. Learners were delighted to benefit from his coaching and encouragement throughout the event.
The atmosphere in the lecture hall was electric as the UTC's four Sector Teams prepared for the competition by hearing Andrew's inspirational story of how he became a three-time Olympic Champion.
Teams representing Cost
ain, Skanska, Thames Water and Tideway (the four sectors at LDE UTC) with coaching tips from Andrew kicked off the competition to see who could row the furthest in an indoor relay race.
After an intense and hotly contested race, the Costain team rowed out as winners closely followed by Thames Water, Tideway and Skanska.
Chair of Governors, Jeremy Galpin, who is the Legacy Lead at Costain Group and a keen rower himself said, "I was impressed by the skill, effort and enthusiasm shown
by every learner taking part." Also at play, he said, "was the ingenious integration into the race of other learning outcomes such as team work, motivation and organisation."
Jonny Morgan, Head of Year 12 had organised the race. Jonny is a passionate sportsman, having represented both Great Britain and Norway in bobsleighing at international level. Jonny runs the College's rapidly growing rowing club, which meets every Monday at the same Docklands venue as the London Youth Rowing Team.
Zahra Shamin, a Year 12 learner part the Skanska sector team, said my lungs were about to burst with all the effort I had to put in. Anujan Chandran, a learner on the Thames Water team who had been previously dislocated his shoulder said, that "the encouragement from the supporters and the crowd inspired me to keep going as fatigue set in".
Everyone including the teams enjoyed the event so much that they are eagerly awaiting the next one, which is likely to be held in the summer term, so that the Costain Team can be knocked off its perch.
Unleashing Potential with Style!
07.11.2019
The LDE UTC celebrated Black History Month in October in style with an innovative and fun event that was well-attended by learners and staff. There was an array of Black inspirational role models sharing their experiences amongst a vibrant cultural backdrop of Afro-Caribbean food, music and dancing.
The event was organised by Onyinye Iwu, the Head of Year and a Built Environment teacher at the LDE UTC working with the Art teacher Sharon Morgan, with lots of assistance from learners and other staff. The purpose was to learn about the Afro-Caribbean cultural experience, and to inspire the many learners at the College from diverse backgrounds to unleash their potential and become the role models of the future.
Beautician to the stars and property magnate, Eryca Freemantle, told UTC learners how she had overcome bullying, abuse, mental health issues and a near fatal car accident that left her with life changing injuries to become an internationally renowned make-up artist to A-list celebrities. Moving from there to develop and grow her own global beauty business and then diversifying to build a property empire. Her underlying message of working hard, never giving up and overcoming obstacles was well received by all learners.
Chair of the Youth Charter and five-time World Karate Champion, Geoff Thompson MBE, gave learners an insight into his life journey, and the need to work hard if you want to succeed in life.
Des Amey, the Managing Director of the Amey Finance Academy based in Canary Wharf, challenged learners to create personal goals and a development plan, and strive towards achieving it. Having a good quality mentor to guide and steer you was a top tip he gave learners if they wanted to succeed. He was so impressed with one Year 11 learner, Diane, that he offered her a work placement within his company at the event.
Interdisciplinary IT professional, best-selling author and Digital Strategist, Yvonne Mbanefo, who has made many historical journeys to Nigeria, entertained the young audience with stories of the Nigerian Igbo heritage. Whilst, Shermara Fletcher, former Chaplain at LDE UTC and part-time singer brought music and dancing to the occasion, inviting everyone to join in with the festivities.
Amazon Web Services kindly sponsored the event and paid for all delicious African and Caribbean food and refreshments, which enabled everyone to learn about and sample the ethnic cuisine.
The event was a huge success and illustrated that that everyone, regardless of their background and race, has potential which if nurtured and unleashed can help you achieve and accomplish great things. Just be prepared to work hard, set goals and to rise to the challenge!